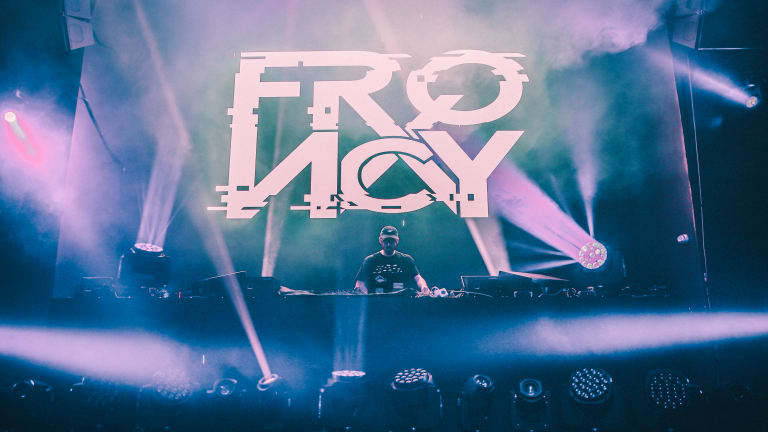 Insomniac's Bassrush Records Recruits Esseks, FRQ NCY, Eazybaked and More on Heavy Bass Compilation, The Prophecy: Volume 1
Sfam, G-Space and Mystic Grizzly joined forces on a collaboration as well.
Bassrush Records has continued its trend of top-notch alternative bass music by releasing its latest compilation project, The Prophecy: Volume 1.
In 2019, Bassrush pushed more of this heavy bass style than ever before, dishing out tracks from the likes of Champagne Drip, Eliminate and SubDocta. With this new release, the label dug even deeper in recruiting underground talent who collectively deliver the best of their respective sounds.
The project kicks off with Brooklyn-producer Esseks, a regular of the Wakaan label. The xylophone-like beat feels crisp and dancy, but it rips open a new dimension of sound and staticky bass at its first drop. From here the project digresses into even heavier sounds, cueing up duo EAZYBAKED to conjure a hellish, gurgling tune that helps settle in the darker aesthetic used by the other artists on the compilation.
Jersey's Shanghai Doom make an appearance on "Coconut," while Florida acts Mystic Grizzly and G-Space team up with sfam on "It Never Ends." Up-and-coming bass act FRQ NCY is responsible for one of the project's more satisfying submissions with "Rubber Band." The track opens with an acid scratch opening reminiscent of G Jones (for whom he recently opened in NYC), and the ATL-based FRQ NCY delivers the high frequency "wubs" and riveting production that has helped his quick rise.
Follow Insomniac Records:
Soundcloud: soundcloud.com/insomniacrecords
Facebook: facebook.com/InsomniacRecords
Instagram: instagram.com/insomniacrecs
Twitter: twitter.com/InsomniacRecs