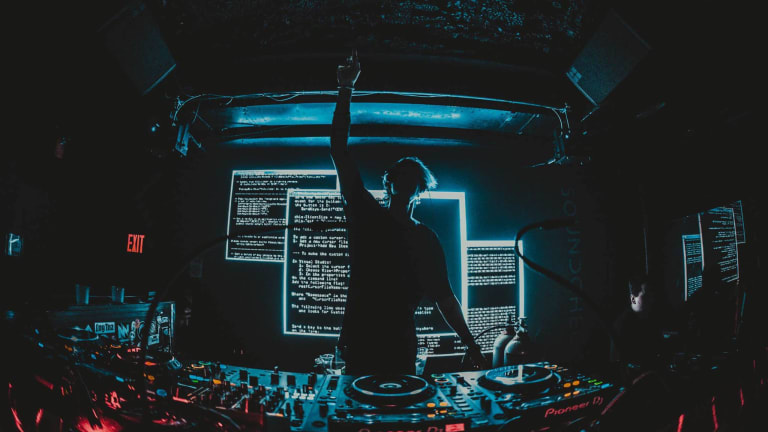 DATA BREACH ALERT: i_o Hacks Users' Private Data on Mau5trap EP, House of God
i_o's "Ghost in the Machine" is surprisingly uplifting for the resident mau5trap computer hacker.
Emerging from the darkest abyss of a sinister digital simulation, Los Angeles-based techno artist i_o (real name Garrett Lockhart) is best known for his signature tagline, "death by techno," which was also the name of breakout EP on deadmau5' mau5trap imprint. 
Drawing on a wide range of influences - including the mau5trap label boss deadmau5 himself - Lockhart has manufactured a dark and immersive sound that ranges from heights of melodic progressive house to the cavernous depths of brooding, underground techno. Equipped with an arsenal of haunting bass lines, thumping percussion, and, for the very first time, his own featured vocal elements, Lockhart is prepared for sonic warfare as he unleashes his brand new House of God EP.  
The standout single from House of God, the appropriately titled "Ghosts In The Machine," capitalizes on the very best of what Lockhart has to offer. Progressive, melodic, and surprisingly uplifting for the Death by Techno artist, the song is an earworm that is as infectious as a cataclysmic computer virus. It's different and unique, but very much in line with the character portrayed by mau5trap's resident hacker.
On that note, EDM.com is thrilled to premiere "Ghosts In The Machine" along with an exclusive playlist takeover from Lockhart himself. Check out the playlist below, and be sure to tune in to his takeover of the EDM.com Instagram (@EDM) for an exclusive Q&A with him.
Steam or Download i_o's House of God EP today.
i_o x EDM.com Playlist Takeover:
FOLLOW I_O:
Facebook: facebook.com/iunderscoreo
Twitter: twitter.com/i_oofficial
SoundCloud: soundcloud.com/i_oofficial
FOLLOW MAU5TRAP:
Facebook: facebook.com/mau5trap
Twitter: twitter.com/mau5trap
Instagram: instagram.com/mau5trap