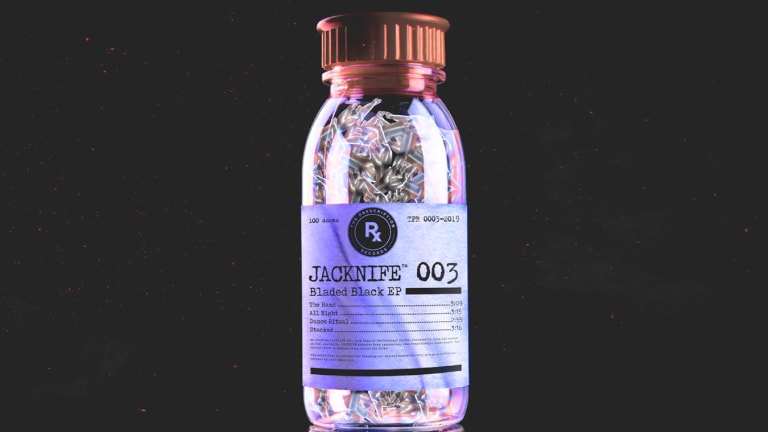 JACKNIFE Releases Killer "Bladed Black EP" With The Prescription Records
Dr. Fresch's newly launched Prescription Records has released the "Bladed Black EP" from rising producer JACKNIFE.
An Australian native, JACKNIFE rose to international recognition through a series of successive releases on industry-leading record labels such as Insomniac Records, Pantheon, Kannibalen, Armada Music and Pinnacle Records, as well as key radio features on shows such as Diplo's Revolution, Zeds Dead's Deadbeats Radio, Jauz' Bite This Radio, and many more.
For his most recent release, the Bladed Black EP, JACKNIFE continues to up-the-ante, blending a wide variety of genres and styles in what is undoubtedly his strongest body of work to date. A staggering blend of G house, bass house, dark electro, and a wild array of other unique influences, JACKNIFE sets a high bar for The Prescription Records.
Bladed Black marks the third release and first full EP from The Prescription Records, the doctor-approved brainchild of the one and only Dr. Fresch. It also serves as a perfect example of the innovative and groundbreaking audio remedies of which we expect to hear more.
According to Dr. Fresch:
"Bladed Black EP' is a stellar journey through modern electro house; JACKNIFE presents a killer display of midtempo and bass house that are equally cinematic and club ready. I've been rinsing the entire EP heavily this winter and am proud to release this piece on The Prescription Records."
From what we've seen thus far, The Prescription's level of attention to detail is superb, and their musical aesthetic is both unique and inspiring - check out the awesome accompanying poem for the Bladed Black EP to get a brief taste of multimedia treats we can expect from The Prescription in the future:
New electricity flows over the land,
A force has taken hold, grabbed by The Hand. 
Peaceful destruction of everything once known. 
A new religion arrives, across the universe flown. 
They have been patient, waiting All Night,
Now they are here, a wondrous sight. 
Bladed Black, all together, never individual, 
Before battle in unison, a sacred Dance Ritual. 
Unaware you are under attack, 
Against you, the odds are Stacked
FOLLOW JACKNIFE:
Website: jacknifemusic.com
Facebook: facebook.com/JACKNIFEMUSIC
Twitter: twitter.com/JACKNIFEmusic
Instagram: instagram.com/jacknifemusic
Soundcloud: soundcloud.com/jacknifemusic
FOLLOW THE PRESCRIPTION RECORDS:
Facebook: facebook.com/ThePrescriptionRecs
Twitter: twitter.com/prescriptionrec
Instagram: instagram.com/theprescriptionrecs
SoundCloud: soundcloud.com/theprescriptionrecs