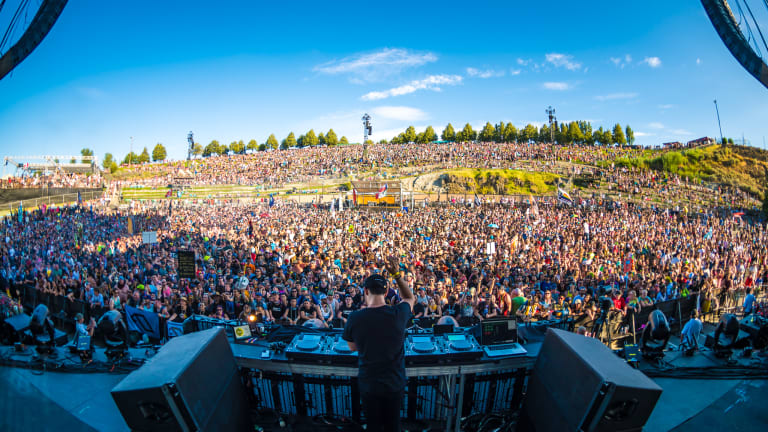 Jason Ross Unveils Stunning New Single With Dabin & Dylan Matthew [Premiere]
Seven Lions' Ophelia Records debuts "One That Got Away," the second single from Jason Ross' highly anticipated album release.
Long recognized as titans in the world of melodic bass, Jason Ross and previous collaborators Dabin and Dylan Matthew have joined forces on the stellar new single, "One That Got Away."  
The second single from Jason Ross' forthcoming 1000 Faces studio album on Seven Lions' Ophelia Records, "One That Got Away" showcases the singularly unique, melodic flair of both Jason Ross and Dabin. It's an exquisite pairing for the rich and powerful vocals of Dylan Matthew, one of the hottest vocalists currently active in the space. 
"Dylan is one of the strongest vocalists on the scene right now and [he] has a way of creating lyrics and hooks that the crowds will sing out loud," Ross said. "He did just that on this track. It was truly a pleasure working with him."
While the musical trifecta may seem odd a first, Dabin and Matthew recently worked together on the dance anthem hit "First Time," alongside Ophelia label boss Seven Lions, and Ross has a strong legacy alongside Seven Lions as well. Since the release of his breakout collaboration with Seven Lions, "Ocean," Ross has been firmly in the Ophelia orbit. It comes as no surprise that his debut artist album will be released through the imprint.
If "One That Got Away" is right up your alley, keep in mind that it's just the second single from a bountiful supply of beautiful bass music yet to come from Jason Ross. 
Pre-save or pre-order "One That Got Away" today.
JASON ROSS 1000 FACES TOUR DATES:
February 14 - Toronto, ON - Danforth Music Hall
February 15 - Montreal, QC - SAT
February 20 - Salt Lake City, UT - Sky
February 22 - Austin, TX - Cedar Street Courtyard
February 28 - Brooklyn, NY - Lost Circus
February 29 - Los Angeles, CA - Academy
March 6 - Dallas, TX - Stereo Live
March 7 - Houston, TX - Stereo Live
March 13 - Seattle, WA - Showbox @ The Market
March 28 - Orlando, FL - Gilt
April 3 - Boston, MA - Royale
April 4 - St. Louis, MO - RYSE
April 11 - Detroit, MI - Grasshopper
April 18 - Minneapolis, MN - Loft @ Skyway
April 24 - Vancouver, BC - Commodore Ballroom
April 25 - Portland, OR - 45 East
May 2 - Chicago, IL- Concord Music Hall
May 8 - Calgary, AB - Knoxville's Tavern
May 9 - Edmonton, AB - Union Hall
FOLLOW JASON ROSS:
Facebook: facebook.com/jasonrossofficial
Twitter: twitter.com/jasonrossofc
Instagram: instagram.com/jasonrossofficial
Soundcloud: soundcloud.com/jasonrossofficial
FOLLOW DABIN:
Facebook: facebook.com/dabinmusic
Twitter: twitter.com/iamdabinlee
Instagram: instagram.com/dabinmusic
SoundCloud: soundcloud.com/dabinlee
FOLLOW DYLAN MATTHEW:
Facebook: https://www.facebook.com/itsdylanmatthew
Twitter: https://twitter.com/itsdylanmatthew
Instagram: https://www.instagram.com/itsdylanmatthew/
SoundCloud: https://soundcloud.com/itsdylanmatthew