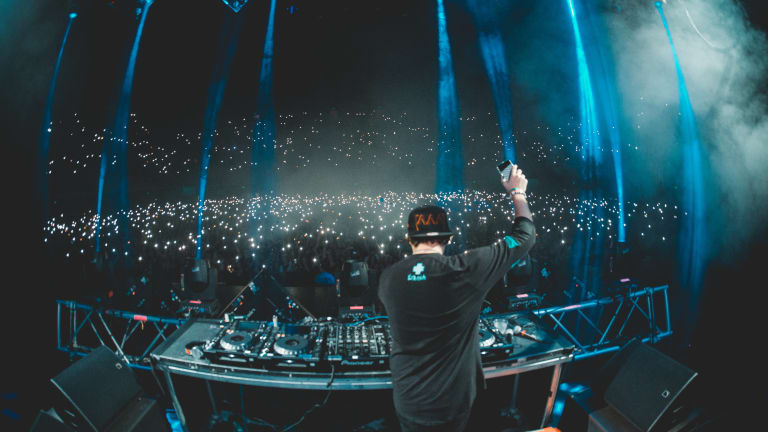 Jauz, josh pan and YOOKiE Unleash Groovy "Dinner Chat"
Most unique collab 2k18?
Many times, seeing a handful of huge names all collaborate on a track feels almost surreal, and you are already wondering what it will sound like before you even hit play. Sometimes, the result is just what you were expecting, blending all artist's styles perfectly, however it might also be something completely different in comparison to your original expectations. 
Jauz's latest collaborative track with mysterious producer josh pan and up-and-coming duo YOOKiE lies definitely somewhere in between. Released on Jauz's label Bite This, "Dinner Chat" is not entirely what you'd expect from the three acts, however listening closely you can clearly see each artist's unique styles and techniques coming together to form this epic banger. 
"Dinner Chat" is essentially a roller coaster from start to finish. An unorthodox arrangement - old-school rave synths, and breakbeats - builds up the energy before the first drop explodes, bringing in pitched-down vocal chops, groovy bass and hints of synths left and right. The second drop is even more surprising, as the drums turn half-time and rattling 808's enter the battlefield for an extra dose of bass. 
As Jauz told Billboard: 
"Working on this track with josh pan and YOOKiE, I knew that it had to be something really left of center. I thought it would be really cool to contrast the new-school vocal chops and heavy low-end basslines with some retro rave synths and breakbeats, so that the track is almost like a bridge between the old rave days of the '90s and now."
"Dinner Chat" is taken out of Bite This' latest First Bites compilation, coming out this Friday, make sure to check it out for more weird gold like this. 
Follow Jauz: 
Facebook: https://www.facebook.com/JauzOfficial/
Instagram: https://www.instagram.com/jauzofficial/
Twitter: https://twitter.com/Jauzofficial
Soundcloud: https://soundcloud.com/jauzofficial
Follow josh pan: 
Facebook: https://www.facebook.com/joshpanmusic/
Instagram: https://www.instagram.com/joshpan/
Twitter: https://twitter.com/joshpan
Soundcloud: https://soundcloud.com/joshpan
Follow YOOKiE: 
Facebook: https://www.facebook.com/yookiemusic/
Instagram: https://www.instagram.com/yookiemusic/
Twitter: https://twitter.com/yookiemusic
Soundcloud: https://soundcloud.com/YOOKiEMusic
H/T: Billboard 
Photo courtesy: Nate Vogel