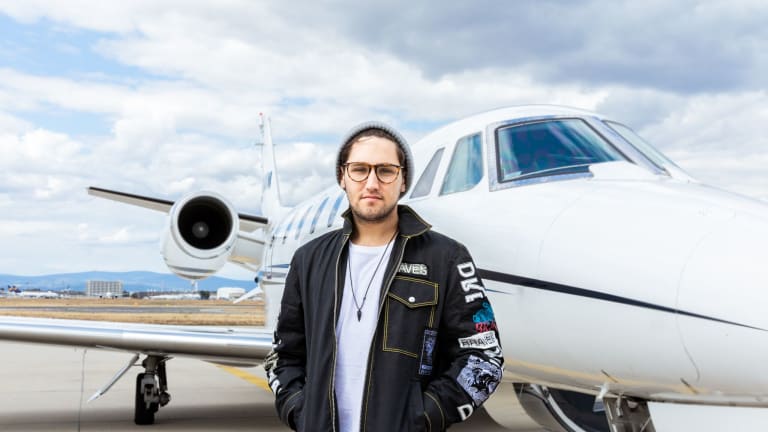 Bite This! Shares House Compilation Album, Jauz Presents: This Is Off The Deep End
The 10-track LP is an experimental exploration into underground house and tech house.
Since announcing the album's release date at the beginning of July, DJ/producer and Bite This! founder Jauz has kept fans at the edge of their seats all month. After getting a glimpse of what was to come with singles, "Don't Leave Me," as well as his i_o collaboration "Truth" earlier in the month, the highly-anticipated tech house compilation LP, Jauz Presents: This Is Off the Deep End, is finally here.
Since 2014, Jauz (real name Sam Vogel) has been on a quick but steady come up and is now recognized as a household name in EDM. While Vogel has been known to dip his toes into all genres of EDM, most notably heard in his 23 track 2018 album The Wise and The Wicked, this is the label head's first deep dive into underground house and tech house. "This is the beginning of a much bigger journey… but for now, forget what you thought you knew." He wrote to Twitter shortly after the announcement of the project.
Expertly curated for dance floors across the world, the 10-track effort includes top talent such as Ship Wrek, NuKid, Jay Robinson, and more. Filled with high-energy bass lines, addictive vocal chops, and funky production elements, each track rightfully demands it's own attention and showcases the deep sounds of underground tech house.
In celebration of its release, Bite This! is hosting a listening party on July 26th at the Academy LA, which will include extended sets, special guests, and free drinks. For fans who cannot attend, the party will be live-streamed on Insomniac Radio starting at 7:00 PM PST.
Stream or download Jauz Presents: This Is Off The Deep End, out now on Bite This!
FOLLOW JAUZ:
Facebook: facebook.com/JauzOfficial
Twitter: twitter.com/Jauzofficial
Instagram: instagram.com/jauzofficial
SoundCloud: soundcloud.com/jauzofficial
FOLLOW BITE THIS:
Facebook: facebook.com/heybitethis
Twitter: twitter.com/heybitethis
Instagram: instagram.com/heybitethis
SoundCloud: soundcloud.com/heybitethis
YouTube: youtube.com/heybitethis