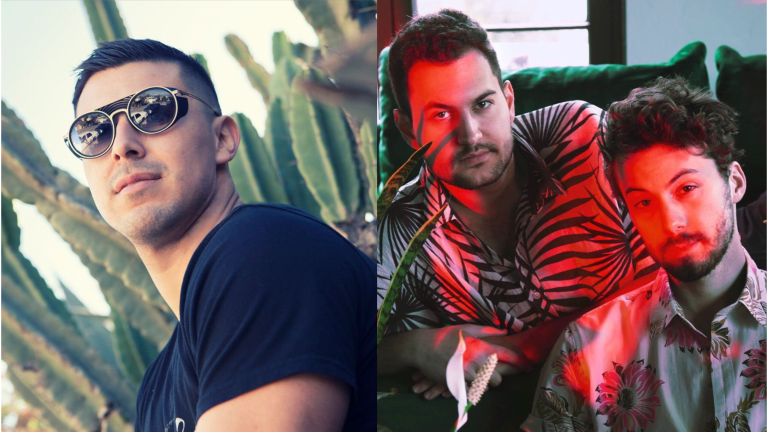 Up-and-Coming House Duo Joluca Bring in Thomas Garcia for Nobody Else EP
The masterly crafted two-track effort is out now via Psycho Disco!.
Both making serious waves in the house scene, Canadian-duo Joluca (real names Adam Johan and David Luca) and rising star Thomas Garcia have combined talents to create the Brazilian-inspired, supercharged track "Beleza" off of Joluca's Nobody Else EP, out now on Psycho Disco!.
Since joining forces in 2016, the duo have been bringing their unique sound to notable labels such as Desert Hearts and Perfect Drive, as well as Gene Farris' imprint Farris Wheels. After recently being featured on Treasure Fingers' label and Psycho Disco!'s compilation album Psych 303 back in March, the two are back again to release their second EP of 2019.
On Side A is the title track, "Nobody Else," which is a groovy, tension-building, six-minute-long experience. The song features bright melodies, trippy production elements, a moving beat, and an overall crisp mixdown to make for an elevated, top-tier release. 
Side B enlists the talents of Thomas Garcia for the slick and high-energy "Beleza." Packed with intricate vocal edits, the song is nothing short of playful and creative. "We decided to go make a tech house tune with a Brazilian flair to spice things up," said the Santa Ana-born producer on the making of the track. "We sampled Alessandra Ambrosio to complete the vibe and then added some nice 808 basses that people will love in the clubs."
"This one is a little different, and more special, because we got to bring in our friend," Joluca said. "Bonus for the nerds out there, the crazy vocal breakdown in that track came about by running a sample of people talking outside a club through a real-life Roland Space Echo and chopping up the results."
Thomas teased that "Beleza" was the first of several songs they created together, possibly alluding to more upcoming releases from the talent pair. 
Stream or download "Nobody Else" and "Beleza" today.
FOLLOW THOMAS GARCIA:
Facebook: facebook.com/thomasgarciamusic
Instagram: instagram.com/thomasgarciavs
SoundCloud: soundcloud.com/thomasgarciamusic
FOLLOW JOLUCA:
Facebook: facebook.com/jolucamusic
Instagram: instagram.com/jolucamusic
SoundCloud: soundcloud.com/jolucamusic
FOLLOW PSYCHO DISCO:
Facebook: facebook.com/psychodiscorecs
Instagram: instagram.com/psychodiscorecs
SoundCloud: soundcloud.com/psychodiscorecs
Twitter: twitter.com/psychodiscorecs