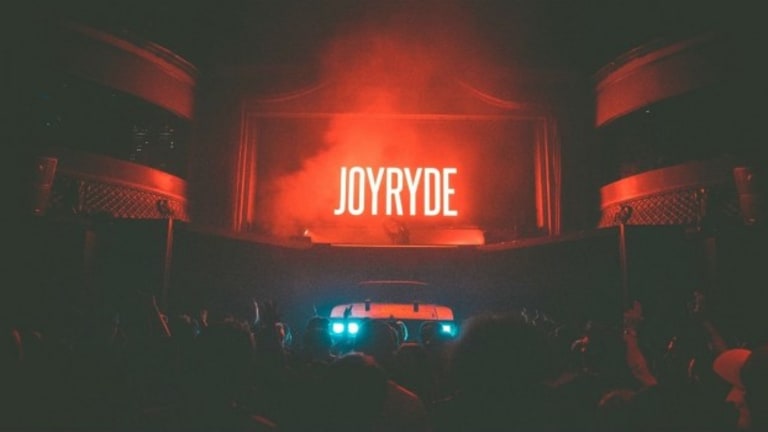 JOYRYDE DELIVERS HIGH OCTANE 30 MINUTE MIX ON NIGHT OWL RADIO
Catch him at EDC.
Joyryde continues to cruise forward with no sign of hitting the brakes, hitting home on his guest mix for Night Owl Radio.
Night Owl Radio is a weekly radio show hosted by Pasquale Rotella, the founder of Insomniac Events--which organizes massive festivals like Electric Daisy Carnival and Electric Forest. The show features a 30 minute guest mix, which Rotella uses to highlight both heavyweights and up-and-comers in the electronic music scene. On this week's guest mix is bass music sensation Joyryde.
Joyryde has a unique sound--influenced by UK garage as well as elements from house sub-genres like ghetto, bass and future--and an exceptional level of artistic integrity seldom seen as of late. Given his unique artistic outlook, it is no surprise he has worked with huge labels, like OWSLA, and played massive festivals, like Ultra Music Festival and Electric Daisy Carnival, within a year of arriving into the electronic music stratosphere.
He continues to shine on his guest feature for Night Owl Radio. It is an eclectic mix featuring thrilling bass house tracks, such as "Claim To Be" by Jauz and "React" by Malaa, a slew of original production, like "Hot Drum" and "New Breed", and in true Joyryde fashion, homage to the UK scene with the inclusion of tracks from Stormzy and Leathal Bizzle. As with any great mix, it includes exciting unreleased music, with a particularly hard-hitting ID from Valentino Khan as well as a a Joyryde VIP of the massive collaboration between Skrillex and Habstrakt, "Chicken Soup". You can view the full track list here.
Along with the mix, Joyryde added a personal message saying, "gonna be preparing something dope for my EDC Las Vegas set". Make your way under the electric sky to find out what he has planned.
Meanwhile, you can stream the mix below:
Hailing from the UK, Johnny Ford AKA Joyryde has been making waves since he drove full throttle into the electronic music world last year. Coming out of seemingly nowhere, he has been delivering gritty, stylistically original music--self dubbed "swurve house"--and a similar persona to go with the sounds. As his name suggests, both his character and music is based on the raw, wild elements one associates with sleek fast cars. He even developed the groundbreaking C.A.R stage for select performances!
Along his meteoric rise to fame and success, he has not only developed a cult-like following of "Rydrz", but stayed true to the roots of his passion. He always pushes the gas pedal in his unrelenting drive to deliver what he feels the audience should hear, throwing conformity out of the window and disregarding current trends. Both his production and mixes create a signature Joyryde vibe around them--gritty, sinister and high octane.