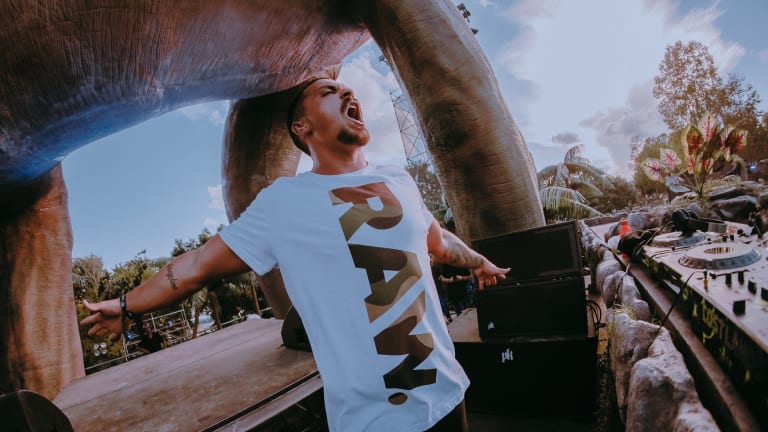 Kai Wachi Cements His Position as a "Demigod" of Bass with Debut Album on Kannibalen Records
Kai Wachi has delivered a divine dose of bass alongside heavyweights Famous Dex, Sullivan King, Grabbitz, Virus Syndicate, and Sam King on his debut 12-track album released with Kannibalen Records.
If you've been following the monstrous musical musings of the resident DEMIGOD of Bass, you'll know that the anticipated debut LP of Kai Wachi (real name Kekai Wachi), DEMIGOD, has finally entered the mortal realm. Released on his longtime home, Kannibalen Records, DEMIGOD shines a spotlight on Wachi's first forays into new sonic territories. Retaining and even expanding on his instantly recognizable gritty and forceful flavor, DEMIGOD also shows Wachi delving into a more emotional style of songwriting, in addition to incorporating a wider spectrum of melodic twists and turns.
Clocking in at a full twelve tracks in length, many longtime fans of Kai Wachi might expect DEMIGOD to unleash a full hour of relentless, neck-breaking bass. They'd be partly right, but that's a considerable oversimplification of the spectrum of sounds Kai Wachi captures with his latest body of work. 
If unmitigated filth and back-snapping growls and howls are your cup of tea, "Demigod," "Hollow" featuring Famous Dex, and "Right Now" featuring Virus Syndicate - or Kai's metal-inspired collaboration with Sullivan King, "Between The Lines" - would be a perfect place to start. "Right Now" in particular brings in backup from the iconic masters of grime, Virus Syndicate, and when paired with one of Wachi's most aggressive musical onslaughts to date, the result is a pulverizing sonic earthquake just waiting to shatter the earth below your feet.
If, on the other hand, you're looking to explore the softer, sexier, and heretofore unexplored side of Kai Wachi's production, take a listen to "Photograph" featuring Claudia Bouvette and "Heartless" featuring Ylti. "Photograph" has an indie-pop slant that manages to incorporate the signature Kai Wachi sound while retaining an overall chilled-out and melancholic atmosphere. "Heartless" sees Kai Wachi in familiar territory, pairing his production with a top-notch hip-hop emcee. This time, however, the style is much more soulful, emotional, and laid back than his typical grime or trap-slanted twist on a bit of urban flavor.
DEMIGOD is an exceptional debut album offering from the veteran mastermind of bass, Kai Wachi, and it offers listeners what is by far his most experimental and wide-ranging collection of music to date. Give it a full listen, and be extremely careful not to become contaminated with the insidious Kannibalen Virus in the process.
Stream or Download DEMIGOD today.
FOLLOW KAI WACHI:
Facebook: facebook.com/KaiWachi.Official
Twitter: twitter.com/KaiWachimusic
Instagram: instagram.com/kaiwachiofficial
SoundCloud: soundcloud.com/kaiwachi