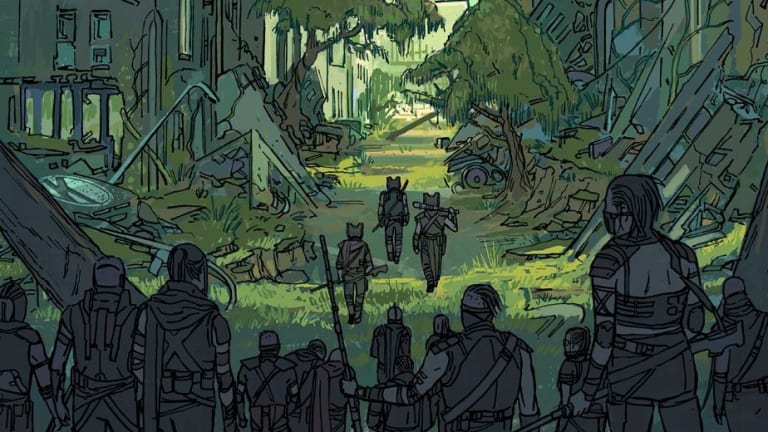 Kannibalen & Black Tiger Sex Machine Call In The Bass Battalion for a Massive Remix LP
Kannibalen Records summons bass legends Doctor P, Teminite, Champagne Drip and more for their "New Worlds" Remixes LP.
The year was 2011, and the day started off like any other at the Dubstep.NET Headquarters in Montreal. It was cold, dreary, and wet - perfect weather for spending the day inside digging for exciting, new music.
Three guys from a group called Black Tiger Sex Machine (BTSM) came into the office to talk about their vision for a new label, what they described as a close-knit family of artists who would grow up and develop together, and around which they would craft a fully immersive, cohesive, and ongoing artistic theme that would tie the whole project together. Each album from each of the artists would serve as a chapter in an ongoing story about an infectious virus sweeping across the world and transforming its inhabitants into insane, bloodthirsty cannibals (who love to dance, obviously).
It sounded like a great concept - one that had tremendous potential, but also one that would require a great deal of time and effort to bring to fruition. The initial artists - Dabin, Black Tiger Sex Machine, Karluv Klub, LekTriQue, Kai Wachi, Snails and Apashe, to name a few - all had exceptionally unique sounds and a clear artistic aesthetic that set them apart from their peers. That said, harnessing all of their creative energy towards a singular goal would be a serious challenge, and it remained to be seen how that would pan out.
When the meeting ended, one thing was extremely clear: The three guys who showed up at the office that morning (pictured below, from left to right), Patrick Barry, Marc-Andre Chagnon and Julien Maranda of BTSM and Kannibalen were some of the most hard-working and dedicated people we had come across, and I knew we'd be hearing a lot more from them soon, no matter how things worked out for the label.
Shortly thereafter, the releases started flowing consistently, and Kannibalen started popping up everywhere. From their gory and gruesome series of cannibal-themed parties to their beautifully curated releases that came down the pipeline with striking regularity, Kannibalen was hand delivered to the masses on a brutal, bloody platter.
Over seven years later, nearly everything that was said in that meeting has come to pass - and oh so much more. Black Tiger Sex Machine and Snails are both headlining shows around the world, Kai Wachi is smashing festival stages with his brutal bass assaults, and the whole Kannibalen roster is in high demand for festivals and shows across North America.
While the core artists have been a staple of Kannibalen since the beginning, the label has also built a network of close partnerships with other artists and labels that have thus far stood the test of time. Regularly collaborating, playing shows together, and supporting each other in as many ways as possible, the extended Kannibalen family has become just as much a part of the ongoing, bloody saga.
A perfect testament to this familial approach lies in the new remix album following hot on the heels of BTSM's New Worlds LP released in March of this year. With remixes from heavy-hitters like Doctor P and Teminite, you can expect massive heat from New Worlds Remixes.
On March 2nd, 2018 Black Tiger Sex Machine released their sophomore album New Worlds through their label Kannibalen Records. Now, the trio are treading through unexplored areas alongside a whole battalion of bass gladiators with the New Worlds Remixes LP.

All ten tracks on the original album have been re-invigorated thanks to such producers as Doctor P, Kompany, Champagne Drip, Teminite and more - including those returning to the Kannibalen imprint like HVDES, Sam Lamar, G-REX and JACKNIFE.
With continuous support from the likes of these bass legends, it's no wonder the infectious saga of Kannibalen has so many loyal minions... err, fans. Dubstep.NET might not exist anymore, but in the era of EDM.com, rest assured: The story has only just begun!
FOLLOW Black Tiger Sex Machine:
Facebook: https://www.facebook.com/official.btsm
Instagram: https://www.instagram.com/officialbtsm
Twitter: https://twitter.com/officialBTSM
Soundcloud: https://soundcloud.com/blacktigersexmachine