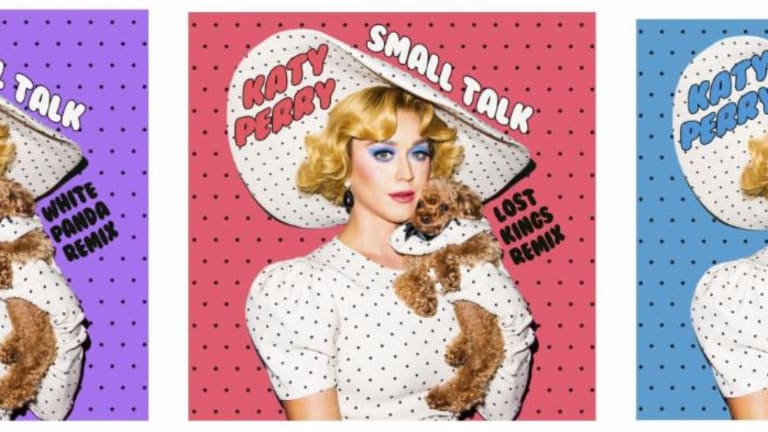 Katy Perry Releases 3 EDM Remixes For "Small Talk"
Remix package includes reworks by White Panda, Lost Kings, and Sofi Tukker.
Landing an official remix for a global pop star is no easy feat. Three electronic acts who did just that are White Panda, Lost Kings, and Sofi Tukker for Katy Perry's "Small Talk." Each artist took the track on their own journey transforming this pop ballad into a single fitting for the EDM realm. 
White Panda kicks things off with a fun future bass edit, equipped with rippling electronic guitar riffs and synths. Lost King ramps up the energy on their rendition. It features a funky drop and house-centric production style. Sofi Tukker's remix stands out with its unique delivery. The use of the booming synth and chord work is understated but makes a major impact. 
White Panda gained mass appeal back in 2014 by delivering some of the top mashups in the game. The mysterious masked figure has now gone on to make create an impressive catalog of remixes and singles for some major producers in the industry.
Lost Kings (real names Rob Gainley and Nick Shanholtz) are gearing up for the release of their forthcoming EP, Lost Angeles, set to come out on October 25th. The two Los Angeles-based producers have risen through the ranks and gaining over 400 million total streams worldwide. The official Lost Angeles Tour will commence on October 26th at New York City's iconic Webster Hall.  
Sofi Tukker (real names Sophie Hawley-Weld and Tucker Halpern) are currently riding off the high of their recently released EP DANCING ON THE PEOPLE. The duo rose to fame when the track "Best Friend" from their debut album Treehouse was used in an Apple promotional campaign. They then when on to earn a Grammy Awards nomination for Treehouse.
FOLLOW WHITE PANDA:
Facebook: facebook.com/thewhitepanda
Twitter: twitter.com/whitepanda
Instagram: instagram.com/whitepanda
SoundCloud: soundcloud.com/whitepandamusic
FOLLOW LOST KINGS:
Facebook: facebook.com/wearelostkings
Twitter: twitter.com/wearelostkings
Instagram: instagram.com/wearelostkings
FOLLOW SOFI TUKKER:
Facebook: facebook.com/sofitukker
Twitter: twitter.com/sofitukker
Instagram: instagram.com/sofitukker
SoundCloud: soundcloud.com/sofitukker