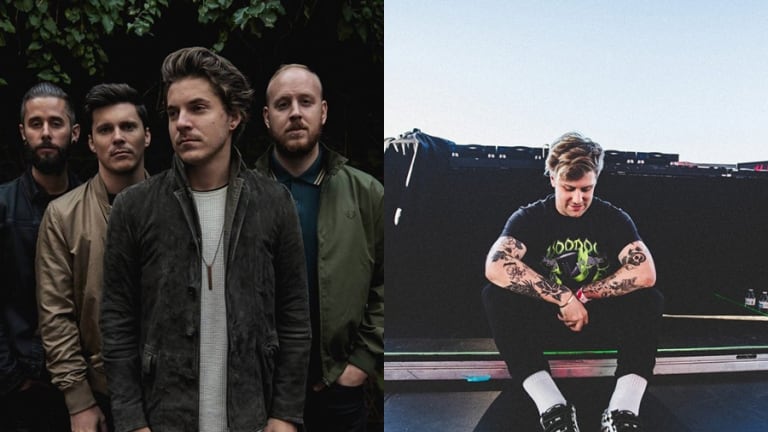 Kayzo Teams Up with Our Last Night on Post-Hardcore/Bass Hybrid "Alone"
It looks like the pop punk crossover trend isn't going anywhere.
Add Kayzo to the list of DJ/producers collaborating with pop punk, post-hardcore and alternative rock bands as of late. The Los Angeles talent has tapped Hollis, New Hampshire band Our Last Night on "Alone," which evenly straddles their respective styles.
Whereas most EDM artists only go as far as to sample the vocalists of the bands with whom they work, Kayzo (real name Hayden Capuozzo) incorporated instrumentals delivered by Our Last Night into "Alone." His own contributions offer a more melodic iteration of his hard-hitting signature sound. Working in tandem, however, it remains to be seen how each camp's fan base will respond to the joint endeavor.
Capuozzo's collaboration with Our Last Night (presently consisting of Trevor and Matt Wentworth, Alex Woodrow, and Tim Molloy) speaks to the recent popularity of EDM/rock crossovers - and it hasn't been a one-way street. Last week, post-hardcore band Bring Me The Horizon released amo, perhaps their most electronic music-influenced album to date.
Our Last Night debuted in 2004 with an EP titled We've Been Holding Back. By comparison, Capuozzo's music career is much shorter. Having been championed by Insomniac's Discovery Project in 2012, he has released music on such labels as Monstercat and Ultra Music in the time since.
"Alone" by Kayzo and Our Last Night is out now on Ultra Music. Stream it on Spotify or Apple Music here.
FOLLOW KAYZO:
Facebook: facebook.com/kayzomusic
Twitter: twitter.com/KayzoMusic
Instagram: instagram.com/kayzomusic
SoundCloud: soundcloud.com/kayzo-music