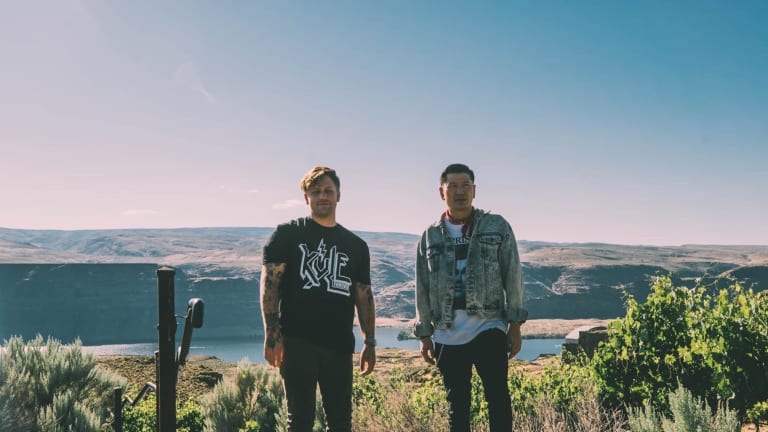 KAYZO and YULTRON Join Forces with Of Mice & Men on "Night Terror"
Hardstyle and heavy metal fans rejoice.
KAYZO has teamed up with his good friend YULTRON to flex their skill of rock-EDM crossovers. Today they enlisted the help of heavy metal group Of Mice & Men to deliver "Night Terror." It is an amalgamation of bass and rock that will get fans of both genres fired up. 
"Night Terror" is a roller coaster of stylings. It begins with a dark vocal build up as were slapped in the face with the smashing drums and guitar riffs. Quickly the sharp synths and bass texturize the entire experience. If you are looking for a track to scream to, look no further. 
Lyrically the track also carries heavy weight. Says of Mice & Men's Tino Arteaga:
" 'Night Terror' to me describes the vulnerability of our minds and the overwhelming sense of terror that can sneak into our thoughts when we lay awake at night. We all know that feeling and I think this song really shows how irrepressible those feelings can become sometimes."
KAYZO is no newcomer to rock collaborations. "Night Terror" follows previous collaborations with Alex Gaskarth of All Time Low with "Up In Flames," Underoath with "Wasted Space," Blessthefall with "Before The Storm" and "Alone" with New England-based post-hardcore band Our Last Night. A new album is set to be released this year from the LA-based producer. 
FOLLOW KAYZO:
Facebook: facebook.com/kayzomusic
Twitter: twitter.com/KayzoMusic
Instagram: instagram.com/kayzomusic
SoundCloud: soundcloud.com/kayzo-music
FOLLOW YULTRON:
Facebook: facebook.com/YultronMusic
Twitter: twitter.com/yultron
Instagram: instagram.com/yultron
SoundCloud: soundcloud.com/yultron