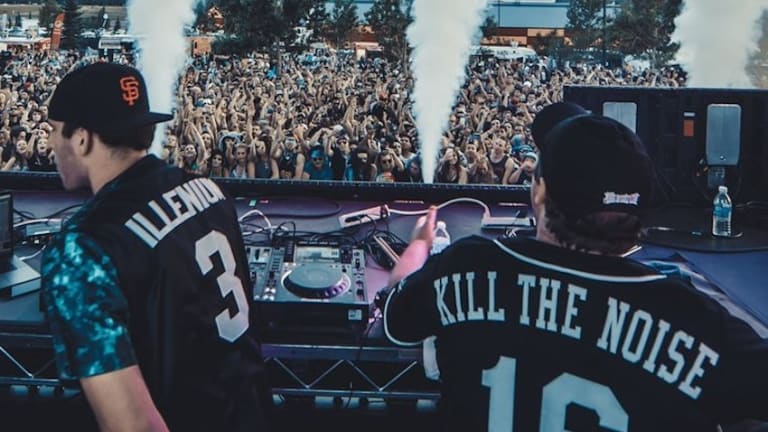 Kill The Noise, Illenium & Mako's Monster Collaboration Is Finally Here
It's everything we hoped for with Kill The Noise & Illenium on the same song.
A staple feature in their live sets since last summer, Kill The Noise, Illenium and Mako's hotly anticipated collaboration was released on Tuesday.
"Don't Give Up On Me" opens with Mako's haunting vocals, luring the listener in with foreboding words, a desolate tone and an enticing sense of longing.
The song switches gears, with the beat kicking in at around the 30-second mark. Mako's fading vocals dance with a roaring soundscape akin to the growls of a mythical monster.
As the song picks up steam, the rising energy culminates in a relentless drop. Signature Kill The Noise; clean, powerful sound design that has your heart beating out of your chest and your head banging fiercely.
Seamlessly, the drop goes from dubstep to future bass, a smooth transition and a welcome layer to an already emphatic drop.
Flume, Kaytranada, The Chemical Brothers, More to Play Goldenvoice's New San Francisco Festival, Portola
The two-day festival will also feature sets from James Blake, Arca, Peggy Gou, M.I.A, Four Tet, PinkPantheress, DJ Shadow, and more.
The next part of the song has Illenium all over it. Melodic, moving, even orchestral, there's a sense of purity and heart to it which is characteristic of Illenium.
Stream below:
It's wonderful to see Kill The Noise and Illenium complement each other so well. Often difficult to execute, their chemistry on the song is playful, fresh and thrilling.
All in all, it's a stunning track, one that shines on all fronts. Smooth flow, high energy, moving vocals and extraordinary sound design, this one's going to be on repeat for a while.

H/T: Billboard