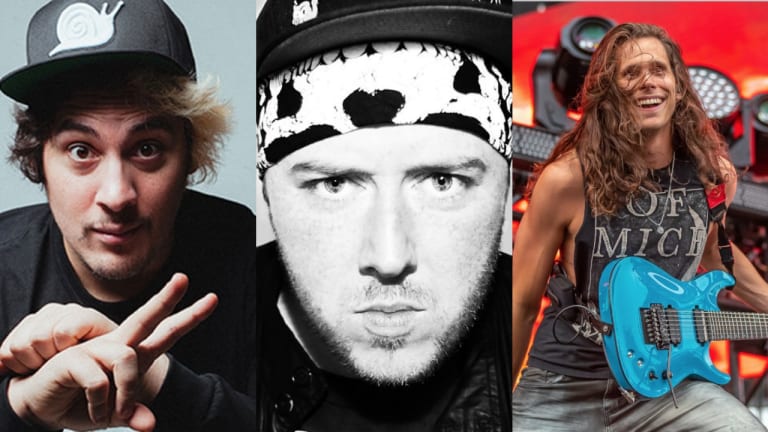 Kill The Snails and Sullivan King Unleash Heavy Hitting Single "Front 2 Back"
The heat behind this single cannot be understated.
Bass music's favorite super duo Kill The Noise and Snails, also known as Kill The Snails, are back with their heaviest offering to date. Joined by singer, instrumentalist and fellow producer Sullivan King, "Front 2 Back" leaves no dead air from start to finish. 
With incendiary vocals from Sullivan King, the call-and-response-style song is sure to whip up any crowd into a frenzy. Festival moshers may have just found their new anthem.
Kill The Noise and Snails have found similar synergies in the studio in the past, but "Front 2 Back" could be their most relentless offering to date. In addition to remixing each other's releases, the two previously collaborated on an original "Shake The Ground," which also featured King. 
If you think we're overplaying our hand, don't just take our word for it. Kill The Noise commented on the fan reception. "Even when this was still a demo it went off so hard every single time," he said. "Literally the first time I played it people heard the hook once and were singing along. Really cool moment for sure!"
FOLLOW SNAILS:
Facebook: facebook.com/OfficialSnails
Twitter: twitter.com/snailmusic
Instagram: instagram.com/snailmusic
SoundCloud: soundcloud.com/officialsnails
FOLLOW SULLIVAN KING:
SoundCloud: soundcloud.com/sullivankingmusic
Facebook: facebook.com/SullivanKingMusic
Twitter: twitter.com/SullivanKing
Instagram: instagram.com/SullivanKing
FOLLOW KILL THE NOISE:
Facebook: facebook.com/killthenoise
Instagram: instagram.com/killthenoise
Twitter: twitter.com/killthenoise
Soundcloud: soundcloud.com/killthenoise