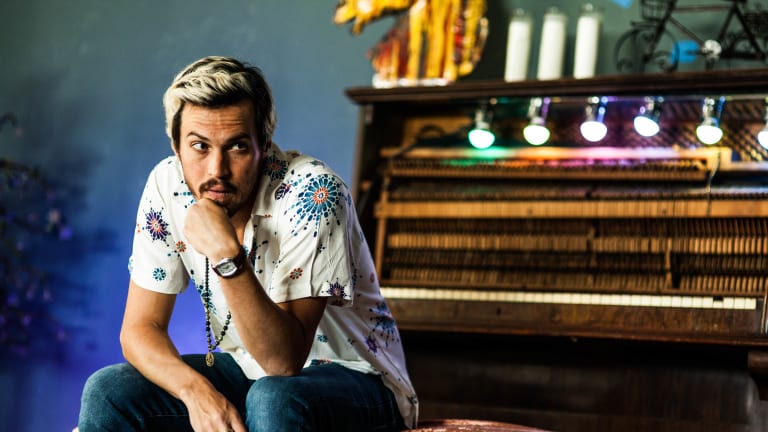 X Factor Champion Alex Kinsey Releases Debut Solo EP, Party of One, on Proximity
Co-written by iLana Armida, Josh Cumbee and Johan Lindbrandt, Party of One is the first complete body of work from half of the former X Factor winning duo Alex & Sierra.
Formerly one half of X Factor-winning duo Alex & Sierra, Kinsey (full name Alex Kinsey) just released his debut solo EP, Party of One, with leading YouTube curator-turned record label, Proximity. 
After Alex & Sierra took home the X Factor win in 2013, the duo harnessed the tremendous momentum garnered from that victory and ultimately released two critically acclaimed albums in addition to completing three major tours. Their biggest record, "Little Do You Know" racked up nearly 300 million streams and marked the Alex & Sierra project as a definitive success, and their subsequent breakup gave him the time and space he needed to pursue his own creative endeavors.
When asked about the transition out of Alex & Sierra, Kinsey said:
"I've been so fortunate to have an already varied career in music, but it feels like now's the time to step out from behind the safety of a band and show who I am as a solo artist. I can't wait to see where my own music can take me."
Drawing influence from music icons such Jason Mraz, John Mayer, Andy Grammer and of course, The Beatles, Kinsey's Party Of One EP is a tantalizing blend of pop, rock, and hip-hop, mixed together with his own distinctively edgy and raw aesthetic. Kinsey's Party of One features music across a highly diverse range of styles and does a fantastic job in showcasing his ability to capture the full spectrum of human emotion within his expertly crafted original productions.
In Kinsey's own words:
"Party of one is a collection of songs that I love and I am proud of. And I think as an artist, that's all I could really hope for in a release. I want to put out music that I would listen to, and I can honestly say that this EP is exactly that. I hope it brings people as much joy to listen to as it brought me to make it!"
With his uncanny knack for incorporating a wide variety of styles and emotions into his music, a penchant for relentlessly pursuing his creative vision, not to mention the support of industry titan Proximity, we expect to see big things from Kinsey throughout the rest of 2019 and beyond.

Stream or Download Party of One today.
FOLLOW KINSEY:
Instagram: instagram.com/alexkinsey
Twitter: twitter.com/alexkinsey
FOLLOW PROXIMITY:
Facebook: facebook.com/proximity
Twitter: twitter.com/ProximityM
Instagram: instagram.com/Proximity
YouTube: youtube.com/Proximity
SoundCloud: soundcloud.com/Proximity