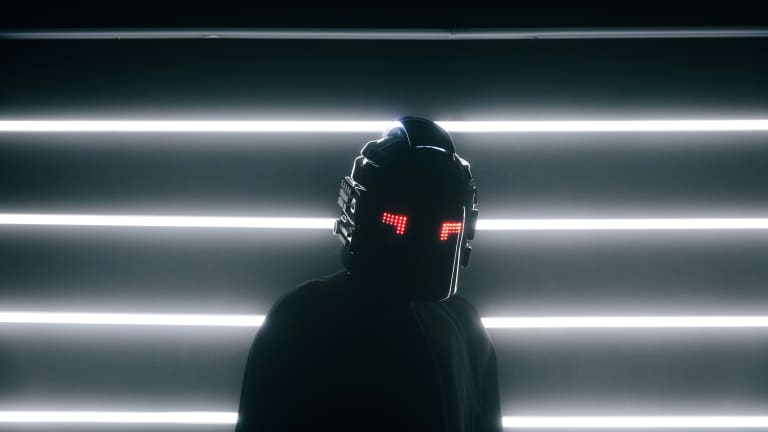 KLOUD Empathizes with "Humans" in New Single and Music Video
The KLOUD saga continues with another fiery release on Trap Nation's Lowly.
Through a number of releases throughout 2019 thus far, fans have been immersed in the compelling, cinematic sci-fi world of KLOUD. Delivered by way of Trap Nation's Lowly., another chapter has been added to KLOUD's dystopian storyline with the release of new single and music video, "Humans." 
The last we heard from this character, KLOUD had learned how users are being fed memories in "Lies." The track specifically detailed how artificial intelligence is born. Now, in the latest update in "Humans," KLOUD sees firsthand the destruction going on. In the "Humans" music video, KLOUD expresses a range of emotions upon learning about the cold world of violence. 
In true KLOUD fashion, "Humans" blends a compelling mixture of electro and pulsing bass to create for an explosive track. Its explosive and dark nature is further enhanced through the music video made to match. The traditional futuristic and dark theme in KLOUD's music videos are intensified in "Humans" by the added warmer color to show KLOUD's fury to the violence. 
KLOUD will make his live debut on November 8th at the Fox Theatre in Boulder, Colorado. For ticketing information, visit here. 
Stream or download KLOUD's "Human," out now on Lowly. 
FOLLOW KLOUD:
Facebook: facebook.com/weareKLOUD
Twitter: twitter.com/weareKLOUD
Instagram: instagram.com/wearekloud
SoundCloud: soundcloud.com/wearekloud
FOLLOW LOWLY.:
Facebook: facebook.com/LowlyPalace
Twitter: twitter.com/lowlypalace
Instagram: instagram.com/lowly
SoundCloud: soundcloud.com/lowlypalace