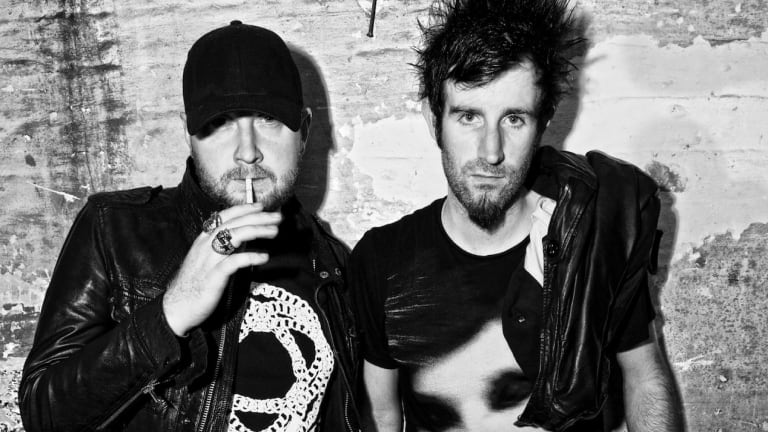 Knife Party Debut Long-Awaited New Single
Knife Party included "Ghost Train" on the 13th Knifecast.
Way back in December, on an episode of their Knifecast podcast, Knife Party announced they would be releasing a new EP "within three months." It's been over three months and it looks as if the Australian DJ/producer duo have released their first track off the anticipated EP. Rob Swire and Gareth McGrillen took to the 13th edition of Knifecast to debut "Ghost Train".
"Ghost Train" starts off with a strong sub and a slower BPM. With the imagery of the ghoulish train on the screen, you can almost hear it coming straight at you. As the sounds of the train build, it's clear things are going to get insane. This is sure to destroy people at shows. 
Last year they released a track titled "Ghost Town," however, there doesn't seem to be any correlation between the two. If the rest of the EP is anything like this, fans of the legendary duo and all things Halloween have a lot to look forward to. 
Swire and McGrillen busted on to the scene back in 2002 with a five-part drum and bass group called Pendulum. In 2011 they reinvented themselves as Knife Party, an electro-house/dubstep duo. Through their Earstorm label, they've worked with Swedish House Mafia, Porter Robinson, and Nero. The Knifecast podcast started back in 2018 and has since delivered all of the project's exclusive new music as well as news you can't find anywhere else.
FOLLOW KNIFE PARTY:
Facebook: facebook.com/knifeparty
Twitter: twitter.com/knifepartyinc
Instagram: instagram.com/knifepartyinc
SoundCloud: soundcloud.com/knifepartyinc