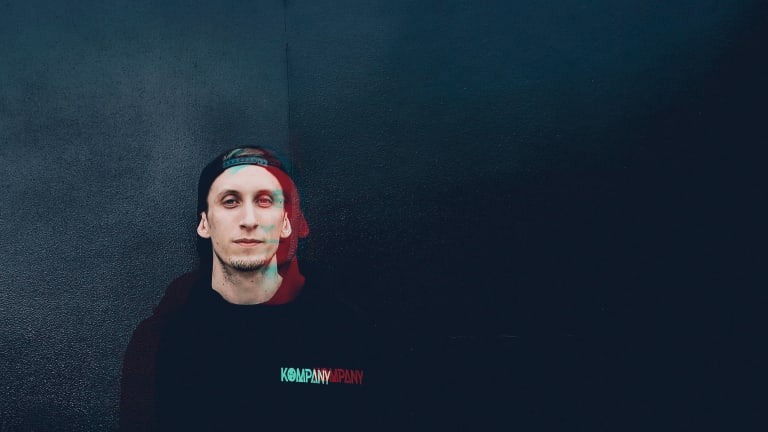 Kompany Drops Massive New Single "Movement"
The L.A.-based producer continues to establish himself as a standout figure in the dubstep scene.
Kompany (real name Kyle Hagberg) is back again with Never Say Die Records to release his new heavy bass single, "Movement."
With bass lines similar to that of his most popular single, "Rapture," "Movement" embodies the signature sound Hagberg has created for himself. The track captivates listeners with its intense, in-your-face bass, a catchy pre-drop vocal, and of course, the massive drop. "Movement" is guaranteed to be among the new bass anthems for the summer.
Hagberg's talent as a producer shines through with this track, and his advanced skill in sound design comes as no surprise. He recently spoke on his rigorous studying in an interview with UKF:
"I got heavily into sound design during the course and started breaking down Cymatics pack. I had a notebook and took out every patch and turned off every modulation and turned it back on and made a note of what it did. I solely worked my way down the pack to understand the technique at an even deeper level."
His aggressive sound design seemingly matches his just as hard can-do drive. 2019 has already proven to be a successful year for Hagberg, with stacked festival announcements, as well as playing support on the Neon Phantom Tour with Dion Timmer and Dubloadz.
Even with a tight touring schedule, Hagberghas managed to release six new tracks in 2019 thus far.- all while maintaining side projects such as his splice pack he released in April, "Kompany Kollection: Volume 1", and mastering others' tracks. Hagberg's energetic approach to music can be easily heard through his tracks and has rightfully earned him the respect of bass music fans globally. 
"Movement" hits just in time for Kompany's performance at Global Dub Festival this weekend on May 18th at Red Rocks Amphitheatre in Denver, Colorado. Stay up-to-date with by following his social links below and stream or download "Movement" here.
FOLLOW KOMPANY:
Facebook: facebook.com/Kompanymusic
Twitter: twitter.com/Kompanymusic
Instagram: instagram.com/kompanymusic/
SoundCloud: soundcloud.com/kompanymusic