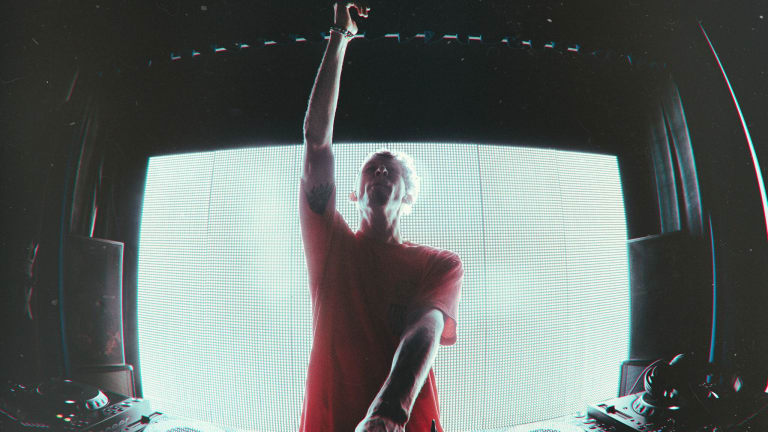 Kompany Unleashes Fan-Favorite Single, "Skullcrack"
A secret weapon in Kompany's live sets over the past year has officially come out on Never Say Die.
Returning to the iconic Never Say Die label is Los Angeles-based producer Kompany (real name Kyle Hagberg) to deliver the instantly recognizable, fan-favorite weapon from his live sets, "Skullcrack." 
Any dubstep fan is sure to have heard this track played out at shows in the past several months. The "Rapture" producer has had quite a successful year, spending most of it playing shows at venues across the world including places like China, Japan, Australia, France, and tour stops all throughout North America. 
In recent months, one track in particular has left fans questioning when it would get an official release date. Hagberg further built anticipation for the single, commonly using it videos posted to his Twitter to highlight his live sets. This eventually led to one fan even creating a whole Twitter page dedicated to the anticipated release of the powerhouse tune. The user has been tweeting out since July of this year. 
After a long couple of months, the beloved "Skullcrack" has finally arrived by the way of one of dubstep's leading labels, Never Say Die. Following Hagberg's signature formula, "Skullcrack" opens with an ambient, tension-building intro as heavy-hitting percussion prepares listeners for the brutal drop. Like his single single "Rapture," which has been streamed nearly 2 million times, "Skullcrack" uses a similar-sounding distorted vocal right before listeners are met with the massive drop. 
To celebrate the release of the single, Never Say Die are hosting a giveaway on their social media pages to win an exclusive, limited-edition "Skullcrack" T-shirt. For fans interested in entering, visit here.
Fans can also catch "Skullcrack" live as Hagberg is currently on tour playing support for NGHTMRE's Portal Tour. There are currently 49 stops across North America announced, with additional support from Crankdat, Wavedash, SAYMYNAME, and Effin. For all ticketing and tour information, visit here. 
Stream or download Kompany's "Skullcrack," out now on Never Say Die. 
FOLLOW KOMPANY:
Facebook: facebook.com/kompanymusic
Twitter: twitter.com/kompanymusic
Instagram: instagram.com/kompanymusic
SoundCloud: soundcloud.com/kompanymusic