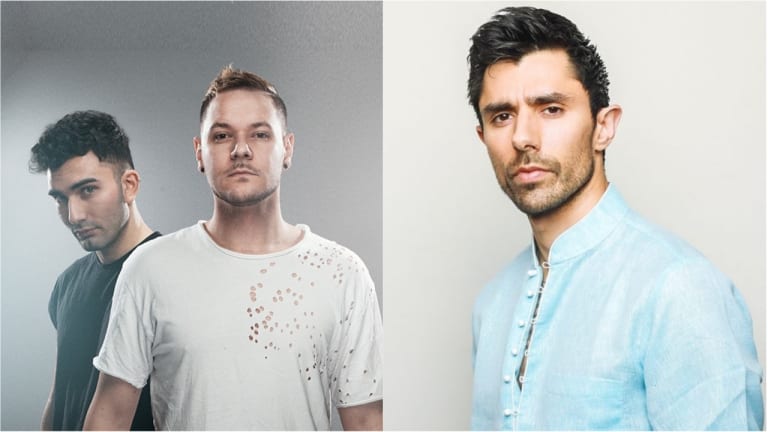 KSHMR and Marnik Drop New Single, "Alone" ft. Anjulie and Jeffrey Jey
Cry dance your heart out to this one.
Global hitmaker KSHMR is back with another collaboration to brighten up your Friday. The California native has teamed up with Italian duo Marnik to deliver the fun, yet lyrically morose new single "Alone" out now on Spinnin Records. The release arrives just in time for KSHMR's upcoming performance at Dreamfields Mexico this weekend. 
The uplifting tone of the dance track is contrasted with the gloomy lyrics depicting feelings of isolation. The atmospheric vocals of Canadian/Guyanese singer Anjulie and Italian vocalist Jeffrey Jey pair nicely with the infectious beat. It's one of those tracks you can find yourself cry dancing alone to in your room, or even in a crowd full of people. 
This isn't the first time KSHMR (real name Niles Hollowell-Dhar) and Marnik (real names Alessandro Martello and Emanuele Longo) have been in the studio together. They previously recorded the two chart-topping hits "Baazar" and "Mandala" which combined pulled in over 31 million streams. If history is due to repeat itself, this too will be another successful release under their belts. 
"Alone" follows Dhar's most recent single "Do Bad Well" featuring EDM mainstay vocalist Nevve. Fans of the Berkeley-born artist can now get a glimpse into his illustrious career spanning 13 years in his new short documentary KSHMR: Back To My Roots. Catch one of his incredible live performances next year aboard Groove Cruise Miami 2020. 
FOLLOW KSHMR:
Facebook: facebook.com/KSHMRmusic
Twitter: twitter.com/KSHMRmusic
Instagram: instagram.com/kshmr
SoundCloud: soundcloud.com/kshmr
FOLLOW MARNIK:
Facebook: facebook.com/marnikofficial
Twitter: twitter.com/marnikofficial
Instagram: instagram.com/marnikofficial
SoundCloud: soundcloud.com/marnikofficial