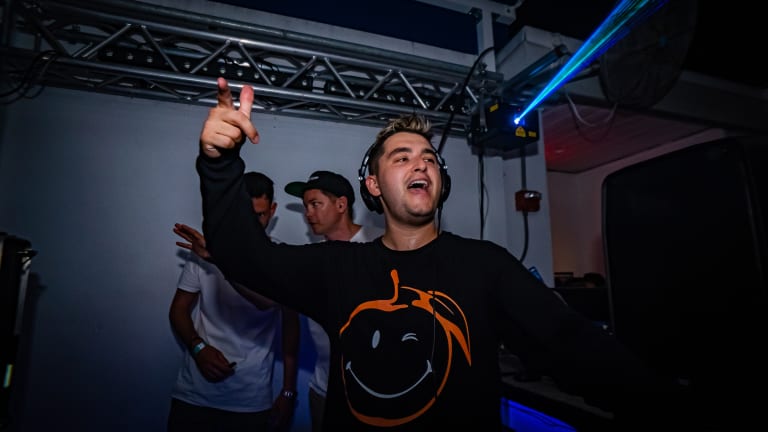 Landis Delivers Fresh-Squeezed Musical Goodness with House Single "Come Around"
True to his brand, Landis has delivered his latest dose of vocal house magic on his very own imprint, Fresh Squeeze Music.
Since 2013, Miami-based DJ/producer Landis (real name Ryan Landis) has been dutifully cultivating a fanatical international fanbase that is genuinely ravenous for his signature, upbeat, feelgood house music vibes. From collaborations with major dance music acts such as Kastra, Tommie Sunshine, Party Favor, Chuckie and Borgeous, to releases on industry-leading labels such as Spinnin' Records, Armada Music, Big Beat Records, and Mad Decent, Landis has had his fill of red tape and label tomfoolery. At this point, he isn't afraid to buck the traditional path and release music on his own.
In line with that fiercely independent streak, Landis released his newest single, the smile-inducing, sunshine-celebrating record "Come Around," on his very own Fresh Squeeze Music label imprint. 
While many artists believe that having major label backing is essential to having a successful release (or even a successful career as an artist in general), Landis shared with us why that isn't always the case:
"After I saw the response on my self-released record "Under Cover" (which is nearing 2 million streams), I found myself wondering what the record label was going to really do for "Come Around" that I wouldn't be able to do myself. I also looked at my past releases on major labels and it was clear that my self-released records had almost always performed better (as far as streaming/radio play/fan love, etc.)

It may seem like turning down a 'major label deal' isn't the right move, but I truly believe in this song and it felt like the major label just looked at it like any other release/another possible money maker. Also, I was a bit offended when they only offered me 18% of the song, saying that's the industry standard... I think independent artists will really drive the future of music. I believe artists should always consider releasing independently, even with a big label knocking on their door."
With the full license to follow his own creative whims, "Come Around" embraces the uplifting, euphoric groove that we've come to expect from Landis, while also offering fans a slightly techier, laid-back vibe to spice up their summer poolside get-togethers. Toss in a the cleverly used "never met nobody like you" vocal sample, and you have yourself a funky house record that you won't be able to get out of your head.
Stream or download Landis' "Come Around" today.
FOLLOW LANDIS:
SoundCloud: soundcloud.com/landisofficial
Instagram: instagram.com/landisofficial
Twitter: twitter.com/Landisofficial
Facebook: facebook.com/landisofficial