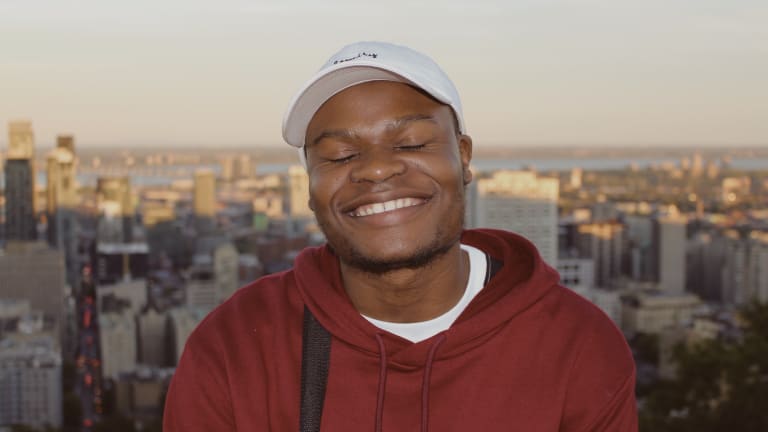 Laxcity: a Success Story Unfolding
After releasing his debut album Catharsis via Majestic Casual, he's only getting started.
Over the past decade there have been major changes to the way the underground scene flourishes, and the mediums artists use to break out if it into widespread success. 10 or 20 years ago, the term "underground scene" referred to DJs and promoters throwing small parties and showcasing their favorite tunes. Artists can now skip playing shows entirely to focus on crafting their best music, and use the internet as a means of spreading it like wildfire.
This has been the case for countless acts that went from bedroom producer to international touring act in a matter of years, and it's exactly how things are looking for Laxcity.
The producer - whose real name is Joshua Mbewe - has an interesting background and unique early inspirations, as he moved to the U.K. from his homeland of Zambia at the age of nine. The only time he left the two countries was earlier this fall. He traveled to Montreal to meet his manager of almost two years for the first time, and play his debut show in support of Robotaki and Said The Sky.
Mbewe always had an interest in music; the earliest memory he has experimenting with it was around 2007-2010, playing drums and the keyboard in his church when no service was taking place. "During every window of time i got to mess around with the keys, I often wished I could record what I was playing," he said. "I had this strong urge to compose a song or melody and record it but I had no idea how to do it."
He became curious to know how music was created, and never thought it could be made on a computer until his cousin suggested the digital audio workspace FL Studio. He told EDM.com that back in his homeland, his older brother loved to draw; he believes he would have followed a similar path as well if they had not moved to the UK. "Most likely, if I had stayed in Zambia, I would have probably pursued a hobby in art and visual media, although maybe my interest in music would still persist through learning to play the keys," he explained.
Playing in Montreal was a stepping stone in a series of successes the producer has enjoyed over the past six months. From partnering up with prodigy Medasin for his Microdose sample pack series, to gathering support by heavyweights such as Ekali and San Holo, Laxcity has perfectly captured the necessary momentum for his most grandiose effort yet; his debut album, Catharsis, out via tastemaker label Majestic Casual.
At eight tracks in length, Catharsis doesn't feel short or rushed. Laxcity's production and songwriting paint a whole a story and add to the sonic cohesiveness of the project. The first and last tracks do an amazing job of introducing the project and leading out of it once it's fully evolved, leaving the listener with a peaceful mind and a feeling that everything has been resolved. 
On the topic of Catharsis, Mbewe has said:
I never really woke up one day and told myself I was going to write an album. It was one of those things that just happened because I had this catalog of tracks I was working on every day. Every song in the album was written at different times in the past year – some are really old and some quite recent. Overall, though, Catharsis is a project I am very proud of and I can't wait to start the next one!
The introductory track reinforces Laxcity's project as "a shoutout to introverts" and makes for an ambient and warm first impression. "Catharsis," on the other hand, is a cinematic opus - an almost six-minute journey driven by strings and tender piano chords, introducing banging drums only half a minute before it fades out.
In the middle of the tracklist, however, darker and more epic soundscapes are presented, and the immersive theme of the album is further explored with the spot-on selection of vocalists. "Under A Lampshade" featuring Ezra James and emawk seamlessly evolves from laid back and bright, to a menacing cataclysm of strings and drum hits before breaking down once again for an unexpected outro, while textured "Changing" featuring rapper Lani Rose perfectly showcases Laxcity's darker side. "Healing" closes off the tracklist, inflicting a lo-fi feeling before Laxcity's own layered vocals take over and create a wall of sound over lush key melodies. 
Overall, Catharsis is a spectacular effort, a tasteful and impactful project. It shows an artist that despite just starting out, is expressing excessive maturity, and has a strong musical identity and message. It truly shines in immersing the listener into the emotional journey Laxcity has laid out. 
The artist is further exploring the full narrative in detail on his website, creating a story played out by the songs, where each song represents a chapter both lyrically and sonically. Visit his website for the detailed Catharsis narrative and more. 
Follow Laxcity: 
Facebook: https://www.facebook.com/laxcitymusic
Instagram: https://www.instagram.com/laxcitymusic/
Twitter: https://twitter.com/laxcitymusic
Soundcloud: https://soundcloud.com/laxcitymusic