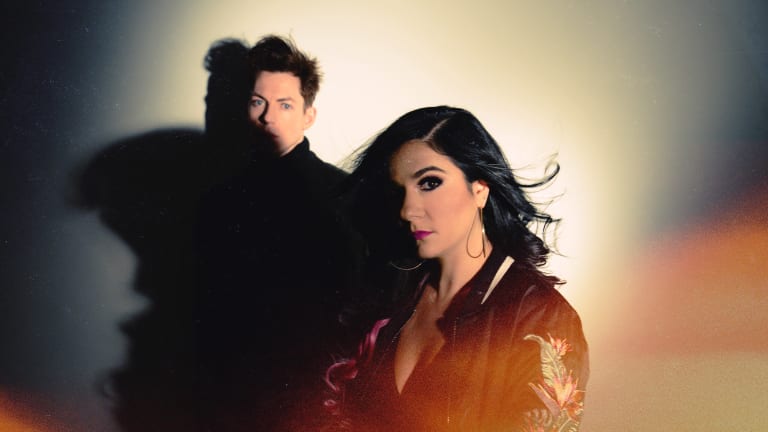 Platinum-Selling Songwriter Lena Leon Drops Debut Single "Walls" With Kastra and Andy Tongren
Singer, songwriter and producer Lena Leon collaborated with New Jersey producer Kastra and Young Rising Sons singer Andy Tongren on her debut single, "Walls."
Hailing from New York City, Lena Leon is an award-winning singer, songwriter, and record producer who is highly sought after in the worlds of both pop and dance music. From songwriting and engineering to vocal production, Leon has been enlisted to work alongside major label pop acts such as Kat DeLuna and Taeyon of Girls Generation, while also being featured in TV commercials and major network shows such Windows Phone, Kayak, Transparent and The Real World. 
Leon has also collaborated with many of EDM's biggest stars and was featured on songs such as the hit Musical Freedom record "Halfway There" with Tiësto and Dzeko, as well as the song "Focus" with Deorro on Ultra Records.
Her new single "Walls," a collaboration with New Jersey-based producer Kastra and Young Rising Sons singer Andy Tongren shows Leon stepping into the spotlight and showcasing who she truly is as an artist. "Walls" is fit to burst with vibrant melodies, compelling vocals, and captivating electronic soundscapes, all part of the secret sauce that Leon brings to everything she touches.
Contrary to what initially feels like an uplifting festival anthem, the heartfelt and emotional lyrics in "Walls" tell a different tale altogether, bringing a relatable and authentic edge to what sonically sounds like a summer EDM dance hit. "Walls" relates the story of two lovers parting ways after a relationship draws to a tragic and unfortunate conclusion. Since both Lena Leon and Tongren perform on "Walls," the listener has the benefit of hearing the tale told from both perspectives. 
Of "Walls," Leon said:
"Walls may sound like a happy song, but it's a breakup duet. Walls represents both the walls of the room the couple lived in together, and the walls they created between themselves. The main message the song leaves behind is: These walls are the only thing that could remind you of everything we've been through together, but those secrets will remain hidden forever"
As a strong female figure within the music industry, Leon hopes to empower other women to follow their passions and fulfill their dreams.
Stream or Download "Walls" today.
FOLLOW LENA LEON:
Facebook: facebook.com/pg/itslenaleon
Instagram: instagram.com/itslenaleon
SoundCloud: soundcloud.com/lenaleon
Twitter: twitter.com/itslenaleon
FOLLOW ANDY TONGREN:
Facebook: facebook.com/andytongren
Instagram: instagram.com/andytongren
SoundCloud: soundcloud.com/andytongren
Twitter: twitter.com/andytongren
FOLLOW KASTRA:
Facebook: facebook.com/KastraMusic
Instagram: instagram.com/kastramusic
SoundCloud: soundcloud.com/kastramusic
Twitter: twitter.com/kastramusic