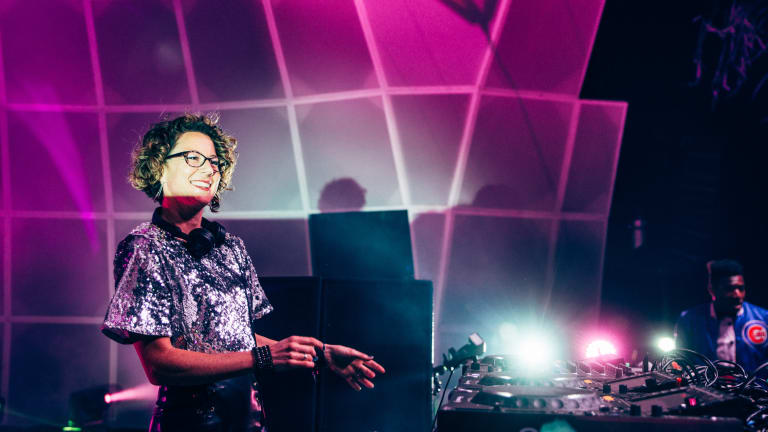 Bass Coast Founder The Librarian Drops Halftime Bass Single "Blue Tusk"
The single arrives just shortly before her Boiler Room debut on July 13th at Bass Coast Festival.
Visionary, curator, and standout electronic artist The Librarian (real name Andrea Graham) has come back from her music release hiatus to unveil her new halftime bass single "Blue Tusk." The release comes shortly before the Canadian producer is set to make her Boiler Room debut at her very own Bass Coast Festival on July 13th. 
Best known for her contributions and cultural influence in electronic music, Graham took a creative hiatus from releasing music to focus primarily on Bass Coast, which she co-founded. "Blue Tusk" is her first release following the short break and is nothing short of her hypnotizing signature sound. It transports listeners to the eerily beautiful world of The Librarian. A perfect balance between subtlety and power, "Blue Tusk" highlights Graham's ability to produce innovative and addictive music.
Graham first took interest in music at just three years old when she first began playing instruments. As she grew older, she studied piano, guitar and singing, as well as playing in bands after school. With a background in classical music, her passion for electronic music struck in the early 2000s when she found herself at Shambhala Music Festival. She describes the feeling as being instantly hooked, and she fell in love with the community that came along with music festivals. 
"I find that listening outside brings a whole new level of awareness to the music." the Squamish-native said in her recent Reddit AMA. "The sound systems create a full-body experience, the fresh air brings you in touch with nature, and usually, the outdoor shows are part of a festival so there is a community of open-minded people who you immediately connect with." 
It comes as no surprise her deep-rooted passion for music experiences has earned her festival, Bass Coast, the award of DJ Mag's Best North American Boutique Festival of 2019. Described as a "living art exhibition," Bass Coast focuses on providing a safe and inclusive environment for all, while also hosting a ground-breaking, top-tier lineup. This year's roster includes the likes of Claude VonStroke, G Jones, and Huxley Anne, as well as many more international and local acts. 
Graham believes that the best possible experience, safety, education, and creating a strong community are the top priorities. During the duration of the four-day festival, daily workshops are held that support sobriety and positive recovery methods. This year, Graham says she hopes to continue this. 
"Bass Coast is working to provide workshops about reconciliation again this year," she has said. "We have also given our core team training about Anti Racism and Cultural Safety at the Rave." 
The sold-out 11th edition of Bass Coast will take place July 12th through the 15th in Merrit, BC. For more information, visit here. 
Along with making her Boiler Room debut and another strong year of Bass Coast planned, fans can expect to hear more music from The Librarian soon, as she also teased more music will be coming in August. 
Stream or download The Librarian's new single "Blue Tusk" today. 
FOLLOW THE LIBRARIAN:
Twitter: twitter.com/librarianmusic
Facebook: facebook.com/librarianmusic
Instagram: instagram.com/librarianmusic
SoundCloud: soundcloud.com/the-librarian
FOLLOW BASS COAST:
Twitter: twitter.com/basscoastfest
Facebook: facebook.com/basscoastfest
Website: basscoast.ca