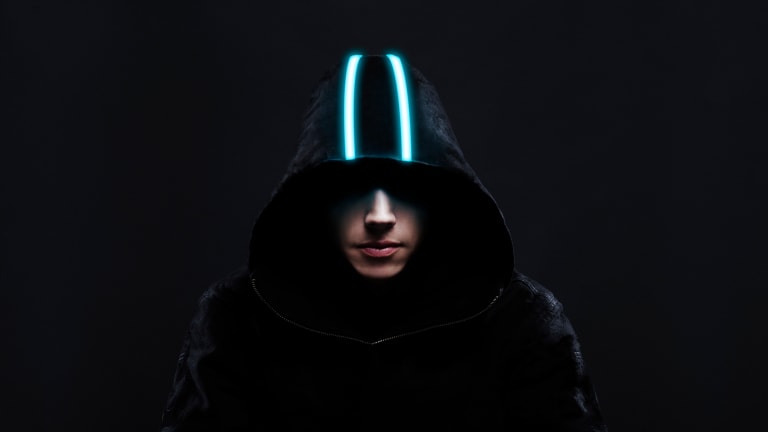 Liquid Stranger Crafts Interstellar Sonic Adventure with Latest LP, Infinity [Review]
Wakaan boss Martin Stääf delivers his most diverse, emotional work yet on the 30-track LP due out February 15th.
Liquid, by definition, is something that flows freely and is of constant volume. If there were ever an artist and album fitting of that description, it's venerated freeform bass producer Liquid Stranger as evidenced by his latest LP, Infinity.
Despite playing the part of "a perfectly normal individual from the outskirts of the galaxy," Liquid Stranger is Swedish producer Martin Stääf, who began working under the moniker in 2003. His reputation as an accomplished producer and his all-encompassing take on freeform "space bass" music has made him a fixture in the alternative bass community, consistently providing the wondrous sonic servings that listeners crave.
With Infinity, Stääf furthers his status as a key figure in this burgeoning experimental bass genre by mastering its penchant for uniqueness and innovation. Running 30 tracks in length, the album brings together an expansive array of styles and tempos, representing one of Stääf's most diverse projects to date.
The looping, dreamy beat of "Prime" kicks off the journey, beginning a downtempo introduction to the album. By track five, things begin to get a bit wonkier, as we're introduced to the first of the album's 16 collaborations and features.
The glitchy track "Zero Frontier" was co-produced by South African act Chee, while "Ceremony" — which resulted from a high-profile collaboration with CloZee — is a tribal, drill and bass masterstroke.
The album's midsection picks up with the weaponized, choppy hardcore side of Liquid Stranger that has made him a seamless addition at dubstep meccas like Lost Lands and Bass Canyon. Highlights includes "Spastic Elastic," a mechanized hard trap anthem featuring fellow genre-spanning act Dion Timmer, as well as "Jetpacks," which features vocals from Vern Knows. Stääf also finally treats his fans to the commercial release of "Run For Cover" ft. MC Shells, a long-awaited, fan-favorite festival ID. 
While the middle of the album flourishes with heavier dubtronica, its defining moments come at the opposite end of the spectrum, where "emotional peaks" in Stääf's personal life during the writing process shine through some of the more downtempo tracks.
"Creativity stems from powerful life experiences," said Liquid Stranger in a February 2019 press release. "And my inner processes have been very intense during the writing of this record for the past year and half."
This emotional weight is felt on songs like "Falling Away," an aural dreamscape that caresses the ears with enchanting bass lines and soul-wrenching vocals before flowing into "Jello Stream", which makes the listener feel like they're being blasted by deep bass while taking a swim through a pool of jello.
"Burn Like Sun" ft. Leah Culver, the album's lead single, encapsulates another genre fusion, blending together powerful charges of bass with masterfully crafted production melodies.
As the Wakaan label boss, Stääf has helped advance the freeform genre by putting on up-and-coming acts whose styles would otherwise have no home. It's his own work on this project that might be his biggest contribution yet, however. On Infinity, Liquid Stranger is able to navigate freely through the different themes and genres of each track with a voluminous degree of production savvy, further crediting him as a figure of authority in this freeform genre.
Liquid Stranger has long preached the importance of this alternative bass movement due to its fixation on mindset over genre, emphasizing freedom of expression for both the listener and artist. Rather than following trends or techniques of others, Infinity takes the listener on a sonic adventure that shows off Stääf's ability to pull emotion from everyday life and craft it into song.
Follow Liquid Stranger:
Facebook: facebook.com/liquidstranger
Twitter: twitter.com/LiquidStranger
Instagram: instagram.com/liquidstranger
Soundcloud: soundcloud.com/liquidstranger
Follow Wakaan:
Facebook: facebook.com/WAKAANofficial
Twitter: twitter.com/wakaanofficial
Instagram: instagram.com/wakaanofficial
SoundCloud: soundcloud.com/wakaan