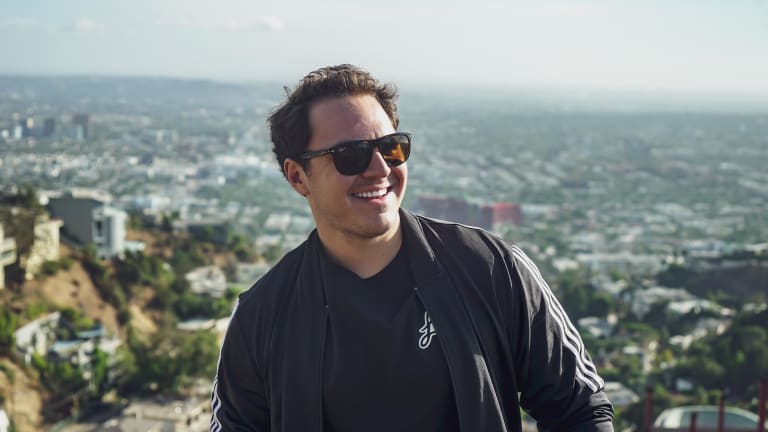 EXCLUSIVE: Lo Key Unleashes Debut EP, More to Life
Get the inside scoop on Lo Key's first EP.
Lo Key is no longer remaining low key. The Phoenix DJ/producer returns to unleash his debut EP titled More to Life, giving fans a piece of himself and his self-journey from beginning to end. The project's lead single, "Lonely Road," was mixed and mastered by Studio DMI (Dada Life, David Guetta, Dillion Francis, DJ Snake, J. Balvin, Major Lazer) — setting the tone for the main theme: turning ugly things absolutely beautiful.
In just three months, Lo Key (real name Ethan Schnitzer) has accumulated over 1.3 million streams across all platforms. The name is inspired by Loki, the god of trickery, as he gauges a genuine connection with listeners allowing them to relate and confide on an emotional level. We all put on a front to hide our true feelings, but he's here to remind us there is a light at the end of the tunnel, no matter how dark it gets.
More to Life serves as a first-person narrative, almost like an open journal for fans to enter. EDM.com spoke with Lo Key about the meaning behind each song, and what it means to him. He stated:
"More to Life for me was being able to tell the story of one of the many life lessons that I've learned over the years. Each track tells a part of the journey, almost like you're flipping through a comic book. Not only did I want to put out music for people to enjoy, but I wanted to give the true Lo Key fans the opportunity to actually explore what the EP's real meaning is and how it ties to my whole brand I'm building."
This whole EP was my journey of coming to realize what success truly is. It's not about the watch on your wrist or the car, although they truly are a nice reward to give yourself after busting your ass. But when you're in the hospital, who's going to show up? Your car isn't going to be holding your hand and asking the nurses what's happening. It's about the intangibles in life — your friendships, true love."
On "Lonely Road," he said:
"Lonely Road is the intro song. It discusses the overall hustle towards success, but places a very strong perception of how success is measured through monetary gains, which is a fair statement. But of course, there's more to success than solely monetary gains."
On "Maybe," he said:
"The overall feel was this beginning of a realization that you can try and partially fill your soul with these material objects, but at the end of the day, that doesn't entirely fill your soul to the fullest extent. That "MAYBE" there is more than just that exterior look of success. Sure, it can provide you this image that externally shows that you've become successful. You have the image to fit that success but internally, there's more than just that. As a man, you can have the image of wearing designer clothes, an expensive watch, having a beautiful woman by your side, but internally, you're not entirely fulfilled."
On "High Note," he said:
"There aren't any lyrics that go with this track. But through the overall depictions through the cover art of each song, there's a storyline that shows this story of how it started off as success is measured by money, but then you have that realization maybe life's success isn't supposed to be measured by money. "High Note" depicts you're finally cognizant that relationships and intangible things are worth far more and may not give you external success, but internally you are fulfilled. "
Stream or download More to Life by Lo Key across platforms here.
Follow Lo Key:
Facebook: facebook.com/LoKeySounds
Twitter: twitter.com/lokeysounds
Instagram: instagram.com/lokeysounds
SoundCloud: soundcloud.com/lokeysounds