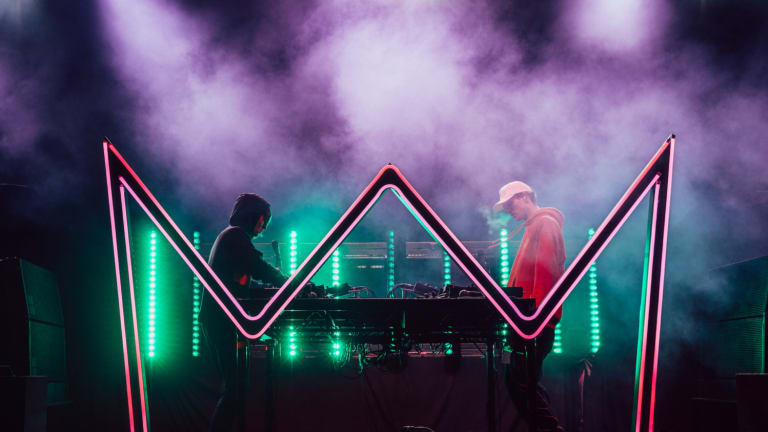 Louis the Child Now the First EDM Act to Collab on X Games Theme Song
The single's title is "Big Time."
Earlier this year, EDM cool kid duo Robby Hauldren and Freddy Kennett graced the stage at the Winter X Games in Aspen. Performing since high school under their Louis the Child moniker, the pair have become representative of a generation of producers coming up in the post-Flume future bass world. 
Now, they've made history as the first dance artist to pen an official theme song for the X Games. The track, titled "Big Time," was released just weeks before the traveling extreme sports event graces Minneapolis in August. 
"Louis The Child's concert in Aspen brought a fun, high-energy performance that was a great match for X Games fans," said the company's president, Tim Reed. "We're excited to be able to connect that same energy to our events, content and brand through the new X Games anthem."
The track is characteristic of duo, featuring the group's classic dance-driven production style and future bass sound. Samples from iconic X Games moments are layered against funky synths for a high-energy feel. 
The pair are heading home to Chicago later this year for a Lollapalooza performance and after show. This summer has brought a number of worldwide festival appearances for the artists, along with a summer residency at KAOS in Las Vegas. Earlier this year, Louis the Child held a headlining slot at Ultra Music Festival and received a Gold Record certification for "Better Not," a hit single from the group's 2018 Kids at Play EP. 
FOLLOW LOUIS THE CHILD:
Facebook: facebook.com/LouisTheChild/
Twitter: twitter.com/LouisTheChild
Instagram: instagram.com/louisthechild/
Soundcloud: soundcloud.com/louisthechild