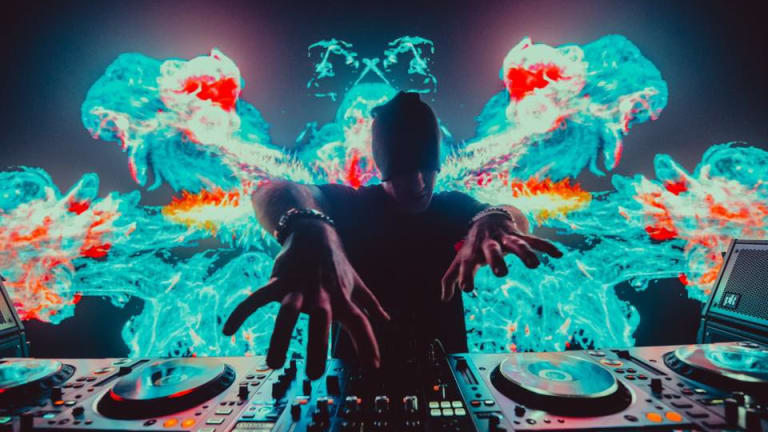 LSDREAM Takes Listeners on a Journey of Self Exploration on New LP, Renegades of Light
Sam Diament, formerly known as Brillz, delivered an entirely new, genre-bending experience with this latest LSDREAM LP.
Whether it's twonk trap or trippy, electro-industrial bass, L.A.-based Sami Diament creates art that expands the confines of genres and the self.
Formerly known for his trap project Brillz, Diament's name has been more recently tied to his new alias, LSDREAM. Today this side project received its second full length release with Renegades of Light via the Wakaan label.
LSDREAM's newest project has garnered him unparalleled attention amongst Wakaan's loyal following and those on the festival circuit, aided by his 2018 VOYAGER LP and role providing direct support on Liquid Stranger's INFINITY tour. On Renegades, Diament unveils himself as a producer-of-all-trades by delivering an innovative breathe of fresh air for the mid tempo electronic genre.
The 11-track LP opens with the album's first single "Hello Human," an amalgam of mid tempo and old school dubstep. The track's striking synth notes and bass processions feel reminiscent of Wakaan's freeform catalogue, but hits with a grungy, heavy sound that draws comparisons to Rezz.
With its '80s retro synths that give in to grimy bass or aerial instrumentals, Renegades of Light feels like an interstellar, tripped-out ride atop a Tron Light Cycle. 
This can be sourced to tracks like the single "Shadow Self." The song opens with a cascading array of synths accented by crisp female vocals that swoop in so smoothly that it distracts from the chugging bass lines that lure you to the drop.
The song's call to delve into the inner darkness speaks to Diament's belief that one must embrace the dark side to fully explore the more positive aspects of one's being.
"Madness. There is a madness within me, a Shadow Self, desperately seducing me into unleashing its destruction," said LSDREAM in a statement. "I embrace it. To know the power of my own light, I must also know the darkness. That is the path to enlightenment."
This latest project echoes Diament's deeply spiritual beliefs and focus on the self, and is best explored at the album's purely instrumental tracks.
The Champagne Drip collab "Eternal Now" is perhaps the greatest example of this. The slow-moving, trippy opener chimes in like a psychedelic children's mobile, hypnotizing the listener into a trance. This soundscape lends to Diament's intention to transport the audience to a wondrous, cosmic journey of self-discovery. The track builds to perhaps the finest moment on the album, where chopped vocal samples cry out in a euphoric release of sound and emotion.
Sam Diament music has always exuded originality, but with this LSDREAM project he's found a music persona that echoes his beliefs and moves audiences unlike ever before.
Find out for yourself and stream Renegades of Light here.
FOLLOW LSDREAM:
Facebook: facebook.com/lsdreammusic
Instagram: instagram.com/lsdream_music
Twitter: twitter.com/lsdream_music
Soundcloud: soundcloud.com/lsdream_music