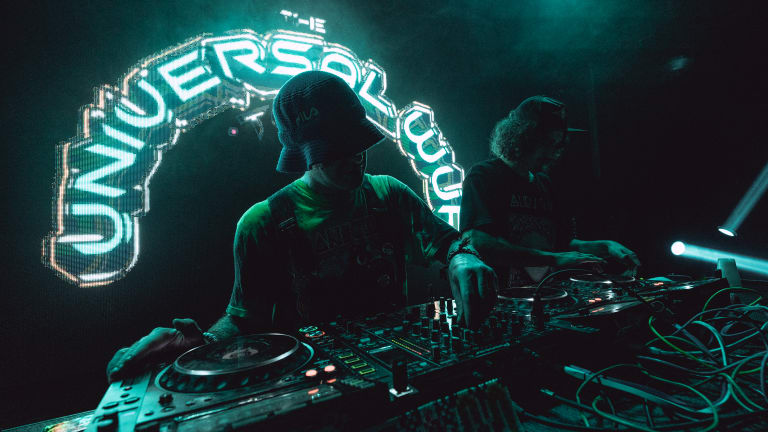 LSDREAM and Shlump Drop "STARCHILD" Ahead of Joint EP, Universal Dub [Premiere]
The collaborative EP is the latest in a series of high-profile drops from the Wakaan label.
Amidst their wub-filled joint tour, LSDREAM and Shlump are delighting fans with a new collaborative EP this Friday. To give fans an early tease of UNIVERSAL WUB, the duo are premiering their new track, "STARCHILD," via EDM.com today.
Both Shlump and LSDREAM — formerly known as Brillz — have become elite members of the Wakaan label due to their seniority and unique production styles. Shlump (real name Michael Petzel) has found a niche with his "alien bass music," while the LSDREAM project is a phenomenon of 2019. Sami Diament, the man behind the moniker, found prominent placement on Liquid Stranger's INFINITY TOUR earlier in 2019, and has amassed a huge following in the bass music community since. He opened for Bassnectar's Be Interactive event in July, and his name has continued to rise on festival lineups around the country.
Despite being UNIVERSAL WUB's closing track, "STARCHILD" marks the creative peak of the four-song collaboration. The single kicks off with a bouncy, midtempo beat reminiscent of LSDREAM's album from earlier this year, Renegades of Light. Sarah Hudson pitches in vocals early, which are then accented with wondrous, astral noises that arise from all around the soundscape. 
The unique combo of midtempo bass and fantastically weird production from Shlump makes this one of the more fun bass tunes to wrap up 2020, reaffirming the two stars' rising popularity. Stream the track below, or watch them play it live on the remaining UNIVERSAL WUB TOUR dates.
Follow LSDREAM:
Soundcloud: soundcloud.com/lsdream_music
Facebook: facebook.com/LSDREAMMUSIC
Instagram: instagram.com/lsdream
Twitter: twitter.com/LSDREAM_MUSIC
Follow Shlump:
Soundcloud: soundcloud.com/shlumpbass
Facebook: facebook.com/shlumpbass
Instagram: instagram.com/shlumpbass
Twitter: twitter.com/shlumpbass