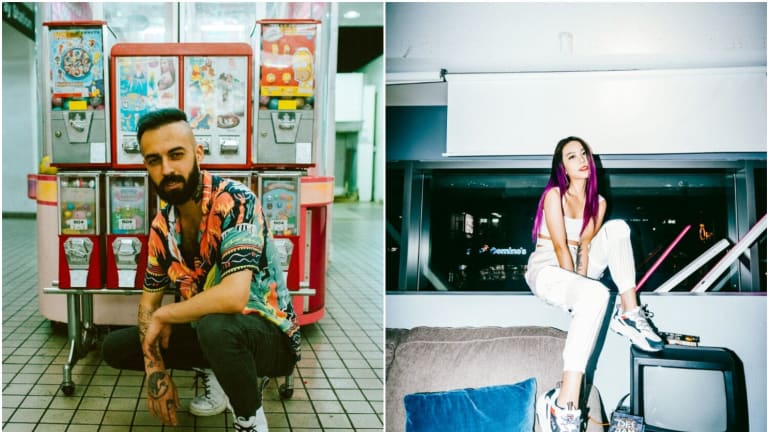 Luca Lush Enters New Era with JVNA Collab, "Reign (Will I Still Be The Same?)"
Luca Lush pushes his sound forward with new collaborative track alongside JVNA, "Reign (Will I Still Be The Same?)," out now on Proximity.
Future bass producer Luca Lush and JVNA have joined forces to deliver their new collaborative track, "Reign (Will I Still Be The Same?)." It's out now on Proximity. 
Luca Lush (real name Wolfgang Robinowitz) first appeared onto the SoundCloud scene during the mid 2010s with flips, edits and remixes to popular hip-hop and pop songs. His remixes of viral songs like Desiigner's "Panda," Travis Scott's "Antidote," and Oh Wonder's "Body Gold" gave him his first rise to stardom and helped further push the future bass movement.
The now self-described "prince of Soundcloud remixes" says he wishes to take his sound in a new direction. "A new era of LUSH is upon us," he wrote to his social media. "This song is the first of many in realizing a grander vision with my music."
The 27-year-old producer went on to explain the reason for his reinvented sound in an Instagram caption. "[I've] been putting in a ton of work lately towards nailing the Luca Lush sound, moving away from being just the prince of the SoundCloud remixes and more towards fully realizing myself as a legitimate artist," he wrote. "This new song with JVNA is a move forward towards that goal."
Back in September Robinowitz opened up on social media about what he describes as a "semi-public bump in the road." The artist took to Twitter last month to write, "I dropped a song only to have it flop harder than anything I've ever released in my entire five-year career."
Despite what he wrote to off as a "failure," the track hasn't taken away from his passion for creating music. "Reign (Will I Still Be The Same?)" serves as a sonic indicator of change for the determined producer. The track features enchanting vocals delivered by JVNA and an infectious vocal chop during the amped-up future bass drop.
Luca Lush has an upcoming performance set for October 19th at Hollywood Palladium. He is set to perform alongside Ghastly and Moksi. Fans interested in attending can purchase tickets here. 
JVNA is currently on the tail end of her debut nationwide Catch Me Tour. Fans can catch her live in cities including Las Vegas, New York City and Chicago. For all tour information, visit here. 
Stream or download Luca Lush and JVNA's "Reign (Will I Still Be The Same?)," out now on Proximity.
FOLLOW LUCA LUSH:
Facebook: facebook.com/LucaLush/
Twitter: twitter.com/LUCALUSH
Instagram: instagram.com/lucalush/
SoundCloud: soundcloud.com/lucalush
FOLLOW JVNA:
YouTube: youtube.com/channel/jvnamusic
Website: jvnamusic.com
Facebook: facebook.com/JVNAmusic
Twitter: twitter.com/JVNA
Instagram: instagram.com/JVNA
SoundCloud: soundcloud.com/JVNA
FOLLOW PROXIMITY:
Facebook: facebook.com/proximity
Twitter: twitter.com/proximitym
Instagram: instagram.com/proximity
SoundCloud: soundcloud.com/proximity