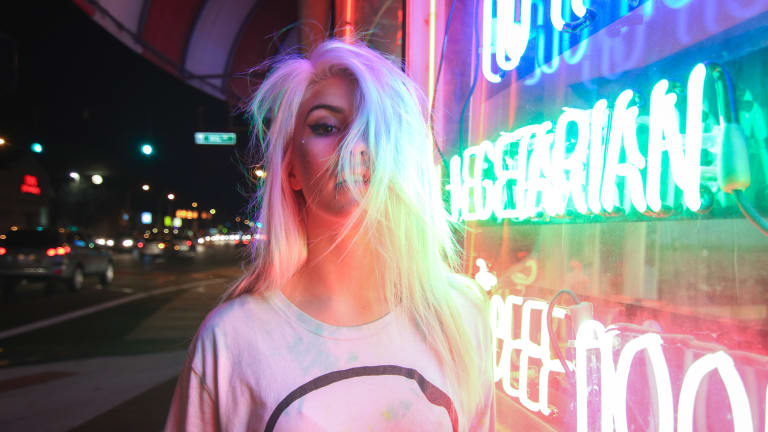 Lucii Previews Wakaan Festival, Unreleased Music, and More [INTERVIEW]
We caught up with one of bass music's fastest rising stars, Lucii, after an out-of-this-world performance at Bass Canyon 2019.
Cascading from the atmosphere and landing onto Billboard's Dance Artists to Watch list in 2019, self-described alien and total space boss Lucii (real name Emily Rose) has completely captivated the bass music scene with her heavyweight, extraterrestrial sound. 
Known for her ethereal vocals, and just as enchanting production skills, this Orlando-native has brought her intergalactic sound to the forefront of EDM and shows no signs of slowing down. Playing support on Liquid Stranger's Infinity Tour at the start of 2019, Lucii went on to release her hit single, "Neptune" in March on the beloved space bass label, Wakaan, headed by Liquid Stranger himself.
Only months later, Lucii has gained a global audience and will be accompanying Dirt Monkey and Bear Grillz on their respective tours later this year. Her authentic and heart-wrenching lyrics have become a staple part of her signature sound, and her live sets highlight the best parts of her emotion-packed style. 
EDM.com got the lucky opportunity to catch up with this space boss after an interstellar and intimate opening set at Excision's 2019 Bass Canyon. 
EDM.com: You just got done with your set, a truly killer performance. First things first, though: What was it like seeing this venue for the first time? 
Lucii: Just absolutely gorgeous. Like how insane it is that we're floating around, we're a speck in this whole universe, and something can be this beautiful. And the fact so many people can come together and be as one is just so incredible to me. Having this beautiful venue and this view is breathtaking.
Your set was amazing. We got to hear so much unreleased music, lots of live singing, and a full live performance of your latest release, the acoustic version of "Neptune." It got super raw and emotional, what was it like performing such a powerful tune in a place like this? 
That song is already very emotional. I wrote that song in a very dark place, before I even made it on Wakaan, and before Liquid Stranger even knew who I was. To be able to have that be my most famous song is just so incredible because it took so much to write it. Playing it live and having people sing to it is so surreal.
Emotive lyrics have been a staple to your sound, and you blend it so harmoniously with these super heavy bass lines, how do you find that duality and balance between the two?
Honestly, it's so hard. I listen to so much SLANDER. They are such a huge inspiration, they can go from melodic bass, future bass, to heavy dubstep in one three-minute song. They have mastered that. So has Illenium. I really have studied them and I have watched tons of tutorials to make it flow and feel good, but also have that grimey bass. It was really difficult for me for a long time. "Neptune" took me at least a year and a half to get right. I went back and forth with the bass drop, but I finally got it to where I want it. It's very challenging to make it raw and emotional but still have that heavy bass. It always will be for me. 'Cause you know, you have a single drop and it's like "Let's get fucked up!" and mines like, "Why would you leave me?" So, having raw emotion and going into heavy bass will always be more challenging. But it's a challenge and I'm ready to face it."
2019 has definitely been your breakout year. You started the year playing support for Liquid Stranger's Infinity Tour. Now you're going on Dirt Monkey's World Tour, as well as Bear Grillz tour. All this on top of the new music, and unreleased stuff we got to preview earlier, how do you unwind from this chaotic schedule? 
I have no idea. I look at my schedule for this year, and I think I've been home for 10 legit home days, and then I fly out the next day. It's a lot, you know. I have a girlfriend and a family, and I love to spend time with them. But at the same time, this is everything to me. To be able to go and play a show for people who might not have heard of me or those who want to see me is just everything. I will always put that as my priority.
Fans here are super excited for the Wakaan takeover to come later tonight, I think everyone can expect to have that be the set of the night. What can we expect for the Wakaan Festival coming in October, though? 
Honestly, Wakaan Festival is going to be so beautiful. Probably one of the most intimate festivals anyone can go to. It's the first year, and they only sold a certain amount of tickets to make it intimate family-like festival. Because that is what Wakaan is. Wakaan isn't just a label, we're a family. We want you to feel accepted and loved and you are welcomed. That is why they wanted to make it intimate. And for my set, I'm going to make special. Cherish everything around you, because it can be gone so fast. I think, Wakaan really understands that. It's going to be amazing. 
Wakaan Festival is set to take place on October 3rd through the 6th at Mulberry Mountain in Ozark, Arkansas. For more information, visit here. 
Lucii has upcoming tour dates across North America to finish up 2019, including performances in Portland, Nashville, New Orleans, and Winnipeg. For all ticketing and tour information, visit here. 
FOLLOW LUCII:
Facebook: facebook.com/LuciitheAlien/
Twitter: twitter.com/luciithealien
Instagram: instagram.com/luciithealien
SoundCloud: soundcloud.com/luciithealien
FOLLOW WAKAAN:
Facebook: facebook.com/WAKAANofficial
Twitter: twitter.com/wakaanofficial
Instagram: instagram.com/wakaanofficial
SoundCloud: soundcloud.com/wakaan