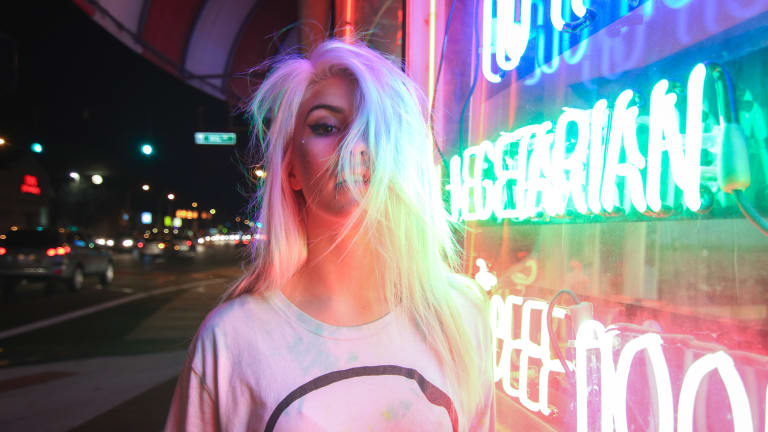 Lucii Makes Enchanting Debut on Wakaan with "Neptune"
It seems all things otherworldly are meant to land on the alt-bass label.
With her penchant for spellbinding electronic melodies and bass production straight from the cosmos, it would seem Orlando-native Lucii was long overdue for a release on independent bass label Wakaan. That is, after all, what earned her an opening spot on Liquid Stranger's INFINITY tour this past spring, and led to today's release of "Neptune."
On her debut single with the label, Lucii (real name Emily Rose) shows that both her production and songwriting chops merit this fantastic cosign. The track kicks off with a fluttering melody that foreshadows the enchanting, cascading beats and vocals that prevail over most of its arrangement. "Neptune" is a heartfelt story that finds Lucii stranded and estranged from love on another planet, with production befitting such an extraterrestrial abandonment.
The dreamy and eclectic nature of the song begins to warp as Lucii's emotion pours into the vocals, and at the one-minute mark it becomes weaponized in the form of a fuzzy dubstep drop. On the nearly-five minute track, Lucii finds a way to balance the heavier dub elements she typically samples for with the emotional, dreamy aspect of the vocals, perhaps due to the nature of her songwriting process.
Flume, Kaytranada, The Chemical Brothers, More to Play Goldenvoice's New San Francisco Festival, Portola
The two-day festival will also feature sets from James Blake, Arca, Peggy Gou, M.I.A, Four Tet, PinkPantheress, DJ Shadow, and more.
"'Neptune' is about my personal struggle with feeling really alone," said Lucii, in a March 2019 statement. "It was written to try and work myself out of a dark place. For me- the best way to cleanse myself is to write and because of my love for space - the idea that being left on a planet away from everyone seemed like a far enough distance away to get my point across."
Lucii validates the emotional weight behind "Neptune" by being able to tell a story with her production and lyrics, and is deserving of the distinction of being first female to have a release on Wakaan. Stream or download the single across platforms here.
FOLLOW LUCII:
Facebook: facebook.com/LuciitheAlien/
Twitter: twitter.com/luciithealien?lang=en
Instagram: instagram.com/luciithealien/?hl=en
SoundCloud: soundcloud.com/luciithealien
FOLLOW WAKAAN:
Facebook: facebook.com/WAKAANofficial
Twitter: twitter.com/wakaanofficial
Instagram: instagram.com/wakaanofficial
SoundCloud: soundcloud.com/wakaan