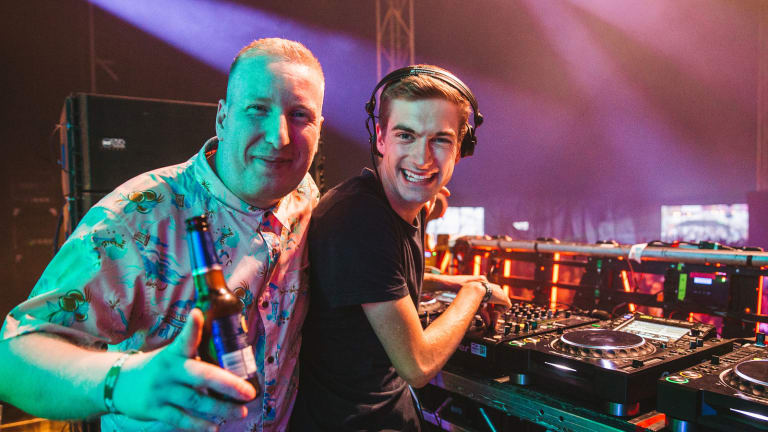 Maduk Celebrates 10 Years of UKF and Liquicity with Drum and Bass Release Colours / Still In Love
UKF and Liquicity commemorated their 10th anniversary with bright and colourful drum and bass release from Dutch drum and bass legend Maduk.
In celebration of the tenth anniversary of UKF and Liquicity, the two pioneering YouTube Curators and label imprints have enlisted Dutch drum amd bass veteran Maduk to commemorate the exciting milestone. 
The Amsterdam-based producer and Liquicity co-owner is coming off the massive single "Go Home" with the legendary U.K. EDM/gaming imprint NoCopyrightSounds, as well as the double-side Go / Coming Down, his first release on Liquicity since his 2017 remix of Memro's "Altitude." Considering that Colours / Still In Love marks Maduk's triumphant return to his home imprint, it makes perfect sense that he joins the ranks of other UKF10 anniversary series heavyweights such as Camo & Krooked, Hybrid Minds, Killsonik, Truth, Mohican Sun, and AC Slater's Night Bass roster.
Both "Colours" and "Still In Love" are quintessentially representative of the musical spectrum on which Maduk has built his reputation: bright and uptempo drum and bass with soaring melodies and electrifying dance floor energy. "Colours" is featured prominently on the Liquicity channel and features the phenomenal vocals of fellow UKF regular Diamond Eyes. 
"Still In Love," on the other hand, was influenced by what Maduk refers to as "2010 era vibes; big pianos, wobbly bass lines, reggae vocals, and rolling beats." Almost exactly the same influences initially drew Maduk to drum and bass in the first place.
Maduk, UKF and Liquicity have all come full circle with this release, making it the perfect fit for honoring their collective drum and bass roots while also acknowledging their long and prosperous collaborative efforts.
Stream or Download "Colours / Still In Love" today.
FOLLOW MADUK:
Facebook: facebook.com/madukdnb
Twitter: twitter.com/MadukDnb
Instagram: instagram.com/madukdnb
SoundCloud: soundcloud.com/madukdnb
FOLLOW LIQUICITY:
Website: liquicity.com
Facebook: facebook.com/liquicity
Twitter: twitter.com/liquicity
Instagram: instagram.com/liquicity
SoundCloud: soundcloud.com/liquicityrecords
FOLLOW UKF:
Website: ukf.com
Facebook: facebook.com/ukfmusic
Twitter: twitter.com/ukf
Instagram: instagram.com/ukf
SoundCloud: soundcloud.com/ukf