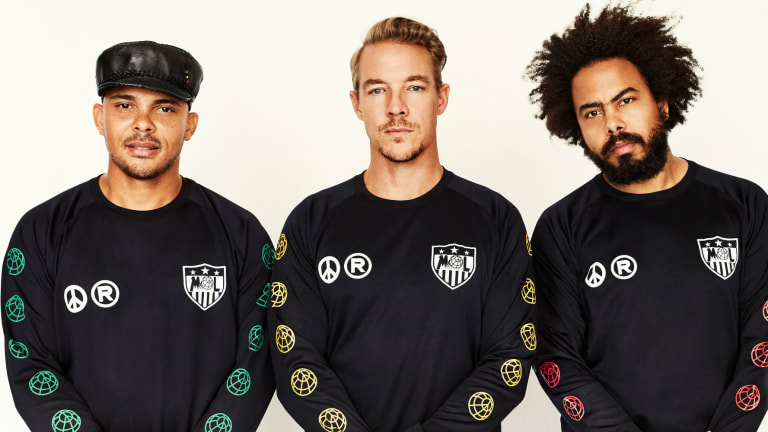 Major Lazer Enlist Skip Marley for "Can't Take It From Me"
The trio just released the first single off their upcoming and final album.
Major Lazer just released their latest single, "Can't Take It From Me" featuring vocals from Bob Marley's grandson, Skip Marley. Diplo, Jillionaire, and Walshy Fire, making up Major Lazer, have been teasing their upcoming album Music Is The Weapon for well over two years. When the group was celebrating its ten years back in September 2018, front-man Diplo (real name Thomas Wesley Pentz Jr.) announced that Music Is The Weapon would be their last album, consisting of "a bunch of stuff you haven't heard like that we made the last ten years." 
As fans have come to expect, "Can't Take It From Me" is a genre-blending, lighthearted release. Skip Marley's vocals are at the forefront while the lush instrumentation leads to a catchy horn melody in the drop. Though Music Is The Weapon still doesn't have an official release date, fans are expecting it to come soon. 
Back in September, Major Lazer released an Essentials mixtape featuring some of the group's greatest hits, as well as a new collaboration with Swedish singer and songwriter Tove Lo. Other than their Africa Is The Future EP which was released around that time, the group has kept fairly silent in terms of new music. Diplo, however, has kept especially busy, supposedly working on the return of their famous animated TV series, and unveiling his new solo country project, Thomas Wesley, releasing "So Long" featuring vocals from Cam. 
Follow Major Lazer
Facebook: facebook.com/majorlazer
Instagram: instagram.com/majorlazer
Twitter: twitter.com/majorlazer
SoundCloud: soundcloud.com/majorlazer