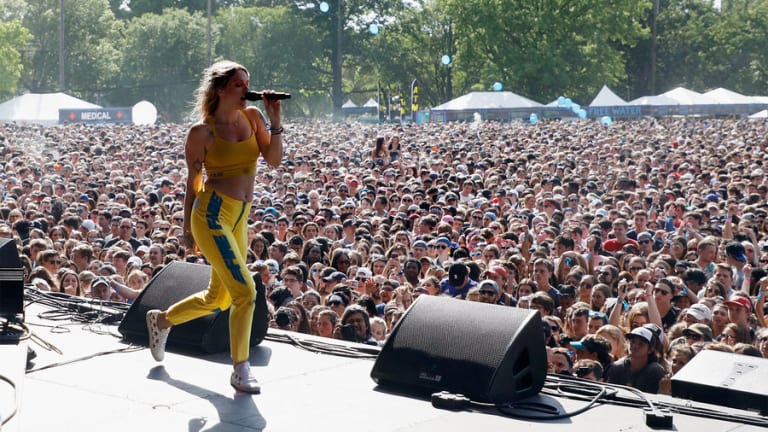 Major Lazer Teams Up with Tove Lo on Upbeat Single "Blow That Smoke"
Tove Lo is featured on one of Major Lazer's last songs leading up to their hiatus.
In case you haven't already heard, the days are numbered for Major Lazer. The Diplo-led pop/dancehall outfit still has plenty of new music coming down the pipeline - such as today's Tove Lo vehicle, "Blow That Smoke."
The Swedish songstress explained that Diplo sped up her original vocal in her interview with Beats 1 host Zane Lowe. The resulting track is distinctly tropical and vaguely danceable with an undeniable measure of mass appeal.
After a ten-year run, Major Lazer's final album is slated for release sometime next year. Tove Lo revealed to Lowe that she's got a studio-length effort of her own in the works. "I feel like I've finally, about a month or so ago, cracked the code on what I want the new sound and vibe to be, so I'm very happy at the moment," she told him.
Tove Lo has previously collaborated with EDM producers like of Flume, Seven Lions and Alesso. She has also co-written songs for such pop artists as Ellie Goulding and Lorde.
"Blow That Smoke" featuring Tove Lo by Major Lazer is out today across platforms.
Follow Major Lazer:
Facebook: https://www.facebook.com/majorlazer/
Twitter: https://twitter.com/MAJORLAZER
Instagram: https://www.instagram.com/majorlazer/
SoundCloud: https://soundcloud.com/majorlazer
Follow Tove Lo:
Facebook: https://www.facebook.com/tovelo/
Twitter: https://twitter.com/ToveLo
Instagram: https://www.instagram.com/tovelo/
SoundCloud: https://soundcloud.com/tovelo