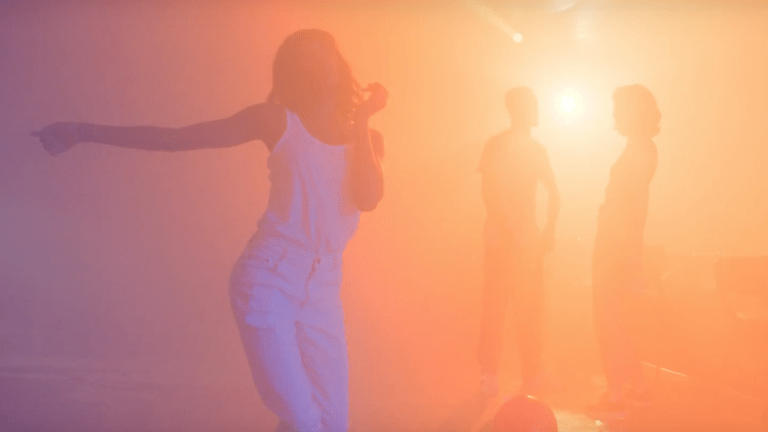 Maribou State Share New Video For "Nervous Tics" feat. Holly Walker
New album Kingdoms In Colour out now on Counter Records
After the successful release of their new album Kingdoms in Colour on Counter Records last week, Maribou State is back with the music video for the fan favorite "Nervous Tics" featuring Holly Walker. 
I didn't realize I would end up liking the song even more than I already did but this music video just proved me wrong! The editing and cuts are top notch. Music videos are an art form that I think need more credit. They're part of our visual language. Translating a song into a different medium makes for such a cool experience. Songs take on different meanings for different people, but when you get the shot to express your vision, I say go all out. And the director did so with flying colors. 
A "trippy ode to awkwardness and all things nervous", the video is directed by Hugo Jenkins and is an exploration of neurosis and suppressed emotions. Each scene exploring the different ways that fear and nervousness can manifest themselves in the body and also in the imagination. "Repeated cuts are used to reflect on how repetitive and jarring nervous thoughts can be," says Hugo, "Interrupting the flow of the film, in the same way, this kind of internal monologue might interrupt a moment of calm."
The song itself is about, "the low-lying panic of modern life" explains vocalist Holly Walker, "we're all on our phones getting terrible news headlines vs. hyperreal Instagram images livestreamed into our brains, and it's making us jumpy. This song is the realisation that no amount of mindful breathing or downward dog can replace some good old fashioned human contact and emotion." Written over a number of writing and recording sessions in Berlin, Beijing, Hertfordshire, The Cotswoldsand London, the track features a field recording running throughout of Chris and Liam in a music store in Beijing playing the Guzheng - a traditional Chinese stringed instrument. "It's always felt like the Frankenstein moment of the album due to all the unorthodox parts that were glued together during the process" they explain, "but the end result was something that felt cohesive and exciting to us."
Make sure to check out the guys while they are on tour in the UK/EU this year and worldwide in 2019:
Maribou State Live in 2018
Oct 10 O2 Academy 2, Liverpool, UK
Oct 11 Rescue Rooms, Nottingham, UK
Oct 12 Brudenell Social Club, Leeds, UK
Oct 13 The Art School, Glasgow, UK
Oct 16 O2 Academy 2, Oxford, UK
Oct 17 Concorde 2, Brighton, UK
Oct 18 The Roundhouse, London, UK
Nov 14 Zonnehuis, Amsterdam, NL
Nov 15 Badaboum, Paris, FR
Nov 17 Saalchen, Berlin, DE
Maribou State Live in 2019
Feb 12 U Street Music Hall, Washington DC
Feb 13 Elsewhere, New York, US
Feb 14 Brighton Music Hall, Boston, US
Feb 15 Le Belmont, Montreal, CA
Feb 16 Velvet Underground, Toronto, CA
Feb 18 Lincoln Hall, Chicago, US
Feb 19 7th Street Entry, Minneapolis, US
Feb 22 Neumos, Seattle, US
Feb 23 Fortune Sound Club, Vancouver, CA
Feb 24 Holocene, Portland, US
Feb 27 The Catalyst Atrium, Santa Cruz, US
Feb 28 Great American Music Hall, San Francisco, US
Mar 01 The Roxy Theatre, Los Angeles, US
Mar 07 O2 Academy Brixton, London, UK
Mar 08 O2 Academy Bristol, Bristol, UK
Mar 09 Albert Hall, Manchester, UK
Mar 14 CBE, Cologne, DE
Mar 15 Festaal Kreuzberg, Berlin, DE
Mar 16 MeetFactory, Prague, CZ
Mar 17 Grelle Forelle, Vienna, AT
Mar 19 Smolna, Warsaw, PL
Mar 20 Uebel & Gerfahrlich, Hamburg, DE
Mar 21 Pumpehuset, Copenhagen, DK
Mar 22 Melkweg, Amsterdam, NL
Mar 25 Mascotte, Zurich, CH
Mar 26 AB Box, Brussels, BE
Listen to Kingdoms In Colour: https://MaribouState.lnk.to/kic
Follow Maribou State:
Facebook | Twitter | Instagram | SoundCloud | Counter Records