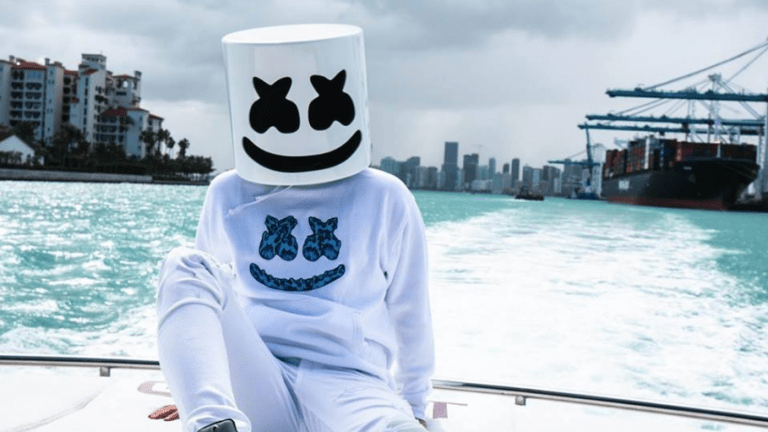 Marshmello Releases "Rescue Me" with A Day to Remember
Marshmello continues to expand his horizons with pop punk-influenced single.
It seems like we're reminded on a weekly basis of Marshmello's ability to cross genres. As his first single for his forthcoming Joytime III album, he's released a hotly anticipated collaboration with A Day to Remember. 
With "Rescue Me" out in the open, fans now have the first taste of Marshmello's new album. Despite the meteoric year thus far, Marshmello is still venturing into new territory with his latest material. Combining the pop punk influences of A Day to Remember and Marshmello's signature synths was an outside-the-box combination that seems to be paying off for the masked producer in a big way. 
The Ocala, Florida-based A Day to Remember is celebrating not only its foray into dance music, but their first single release since 2016. Yesterday the band's frontman Jeremy McKinnon went back in time on Twitter to publicly respond to a tweet from Marshmello asking to connect. The timestamp of the tweet is from early 2017, just months following the band's last album release. 
Needless to say, this collaboration has likely been in the works for quite some time, and we're finally happy to say it doesn't disappoint. Check out Marshmello and A Day to Remember's collaboration "Rescue Me" - out now.  
FOLLOW MARSHMELLO:
Facebook: facebook.com/marshmellomusic
Twitter: twitter.com/marshmellomusic
Instagram: instagram.com/marshmellomusic
SoundCloud: soundcloud.com/marshmellomusic
FOLLOW A DAY TO REMEMBER:
Facebook: .facebook.com/adtr
Twitter: twitter.com/adtr
Instagram: instagram.com/adtr