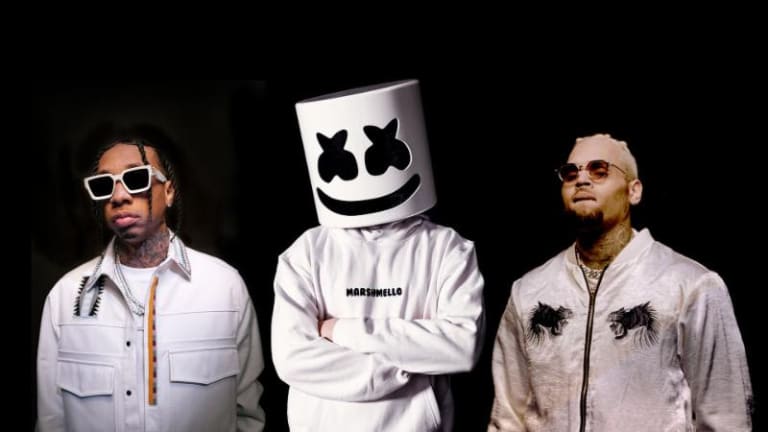 Marshmello, Tyga and Chris Brown Release Radio-Ready "Light It Up"
"Light It Up" sees Marshmello fully immersed in commercial hip-hop.
If you're cueing up Marshmello's latest single hoping to hear his saccharine brand of main stage EDM, you might be taken aback. The masked DJ/producer has delivered a Tyga and Chris Brown collaboration titled "Light It Up" that sees him fully embrace top 40 rap.
That's not to say it's poorly executed. The beat he constructed won't leave a listener's thoughts after the first time they hear it while still leaving ample room for Tyga (real name Micheal Ray Stevenson) and Brown's alternating verses to shine. Accompanied by a flashy, engaging music video, the three artists' joint endeavor has all the makings of a crossover hit.
"Light It Up" is by no means Marshmello's first foray into hip-hop. The anonymous artist has recently teamed up with SOBxRBE and Roddy Ricch, and apparently still has a Cardi B collaboration on the way. The move towards hip-hop is likely part of a strategy put in place by Marshmello's manager, Moe Shalizi, to make his client's income rival that of Calvin Harris in 2019.
Stream or download "Light It Up" by Marshmello, Tyga and Chris Brown across platforms here.
FOLLOW MARSHMELLO:
Facebook: facebook.com/marshmellomusic
Twitter: twitter.com/marshmellomusic
Instagram: instagram.com/marshmellomusic
SoundCloud: soundcloud.com/marshmellomusic