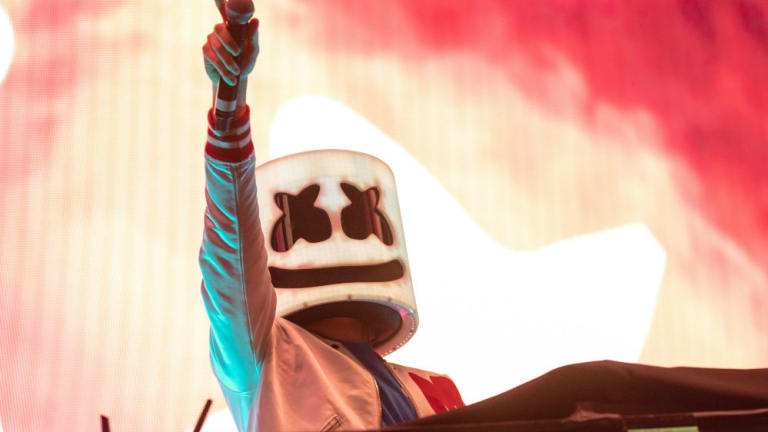 Marshmello and CHVRCHES Release New Collab "Here With Me"
Marshmello continues to expand his list of high-profile collaborators.
Shortly following the announcement of Marshmello's latest collaboration, his new single "Here With Me" with CHVRCHES has arrived. Though the revelation of their single arrived unexpectedly, the upbeat electro pop collaboration seems like a logical fit for both artists, who are currently on the upswing in 2019. 
Marshmello has created a slew of genre-crossing collaborations as of late, and is showing no signs of slowing down. CHVRCHES represents Marshmello's latest partnership with a mainstream band. Similar to his chart-topping collaboration "Happier" with Bastille, "Here With Me" embraces a strong songwriting focus with shining vocals from CHVRCHES frontwoman Lauren Mayberry.
CHVRCHES have been touring heavily off of their 2018 album, Love Is Dead. While the Scottish trio has maintained an electronic focus in their original music, they've sought out remixes from a vast spectrum of producers. Their single "Miracle" recently received remixes from producers such as Mija and Manila Killa. However, the group's collaboration with Marshmello arguably marks their most decisive foray into the dance music space yet. 
Listen to the uplifting collaboration between Marshmello and CHVRCHES, "Here With Me," available now.
FOLLOW MARSHMELLO:
Facebook: facebook.com/marshmellomusic
Twitter: twitter.com/marshmellomusic
Instagram: instagram.com/marshmellomusic
SoundCloud: soundcloud.com/marshmellomusic