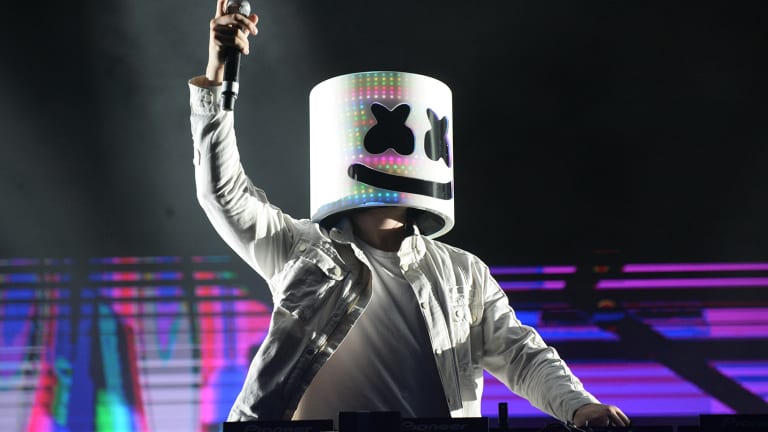 Marshmello to Release Collab with Compton Rapper Roddy Ricch
Marshmello has tapped an up-and-coming talent for a collaboration.
It appears as though Marshmello wants to add more hip-hop artists to his long list of collaborators. Whereas last month the anonymous DJ/producer hinted at a project with Tyga and Chris Brown, however, his next endeavor will see him team up with up-and-comer Roddy Ricch. 
In no uncertain terms, Marshmello tweeted that he had a collaboration in the works with Richh. Being that the latter artist's career has been more or less confined to hip-hop, the project will surely expose him to a much wider audience.
According to XXL, Roddy Rich's music career gained momentum with the breakout success of "Die Young," a single he released in July of 2018. Prior to that, he had delivered a mixtape titled Feed Tha Streets in late 2017 followed by a four-track EP called Be 4 Tha Fame in early 2017.
Marshmello, on the other hand, is well established in the EDM world. In past two years, he has reportedly earned $44 million - and his manager, Moe Shalizi, expects him to rival the income of Calvin Harris in 2019.
Neither Marshmello nor Roddy Ricch have disclosed a title, release date or any other information for their collaboration at the time of writing.
H/T: EDM Sauce
FOLLOW MARSHMELLO:
Facebook: https://www.facebook.com/marshmellomusic
Twitter: https://twitter.com/marshmellomusic
Instagram: https://www.instagram.com/marshmellomusic
SoundCloud: https://soundcloud.com/marshmellomusic
Follow Roddy Ricch:
Facebook: https://www.facebook.com/RoddyRicch/
Twitter: https://twitter.com/RoddyRicch
Instagram: https://www.instagram.com/roddyricch/
SoundCloud: https://soundcloud.com/roddyricch