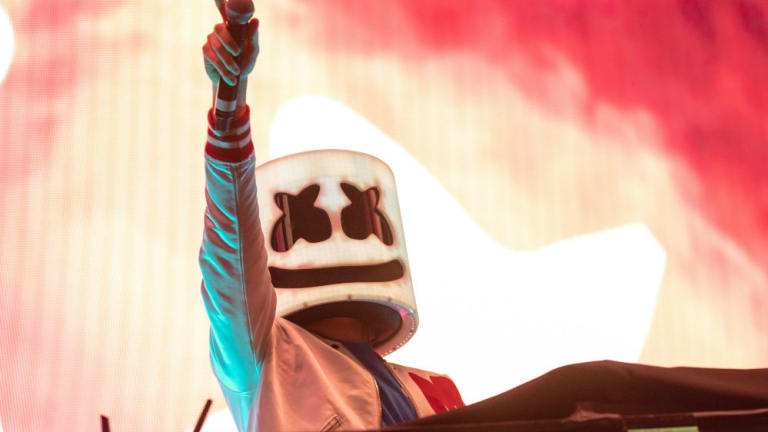 Marshmello Officially Drops Joytime III
The wait is finally over.
It's been a year since Marshmello released Joytime II and fans have been begging for more. Those who purchased his new mobile game, Marshmello Music Dance were treated to some of the songs ahead of the drop. Now, the wait is finally over for everyone else. 
The bucket-headed producer has released the long-awaited Joytime III. It features a slew of collaborations including Slushii, Yultron, Bellecour, Wiwek, TYNAN, Crankdat, Flux Pavilion, Elohim, and A Day To Remember.  The 13-track album comprises a high-energy, in-your-face tracklist sure to get fans of the producer hyped for the holiday weekend.
"Run It Up," "Sad Songs," "Rescue Me," and "Proud" are the tracks for those who like the rock/future bass crossovers. If you are trying to go a harder, check out "Put Yo Hands Up," "Let's Get Down," "Angklung", "Earthquake," and "Falling to Pieces." He even threw in a house track with Bellecour on "Set Me Free." For those looking for some O.G. Marshmello sound, look no further than "Down" and "Here We Go Again". 
Marshmello has long been suspected to be Chris Comstock A.K.A. Dotcom. He has been releasing Joytime albums since 2016. Since his rise to fame in 2015, he has become a global superstar. His journey was documented as a part of the YouTube Artist Spotlight Series. 
Marshmello is currently on tour and is headlining a performance tonight at Electric Playground in Macka, Turkey. 
FOLLOW MARSHMELLO:
Facebook: facebook.com/marshmellomusic
Twitter: twitter.com/marshmellomusic
Instagram: instagram.com/marshmellomusic
SoundCloud: soundcloud.com/marshmellomusic