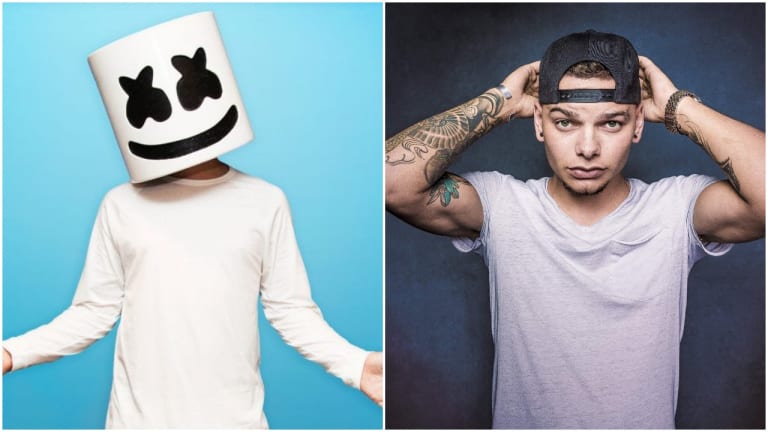 Marshmello Jumps on Country Bandwagon, Announces Kane Brown Collab
Even Marshmello's taking a page out of Lil Nas X's book.
Now that Diplo's waded into the waters of country music, other EDM/country crossovers don't seem all that implausible. It feels like it was only a matter of time before Marshmello announced a country release, and now his Kane Brown collaboration is due out this Friday, June 21st.
The masked EDM superstar revealed the news via Twitter. As can be seen in the album artwork, the track will go by the title "One Right Thing." No preview clip is available at the time of writing.
Based on Marshmello's recent penchant for hip-hop collaborations, a joint endeavor with Kane Brown may occur to some fans as a significant departure. It certainly falls in line with recent industry trends, however. After "Old Town Road" made rapper Lil Nas X a household name practically overnight, music fans can expect more industry leaders to cash in with country crossovers of their own.
Meanwhile, Marshmello fans still look forward to the release of his long-awaited (and still somewhat speculative) Cardi B collaboration.
FOLLOW MARSHMELLO:
Facebook: facebook.com/marshmellomusic
Twitter: twitter.com/marshmellomusic
Instagram: instagram.com/marshmellomusic
SoundCloud: soundcloud.com/marshmellomusic