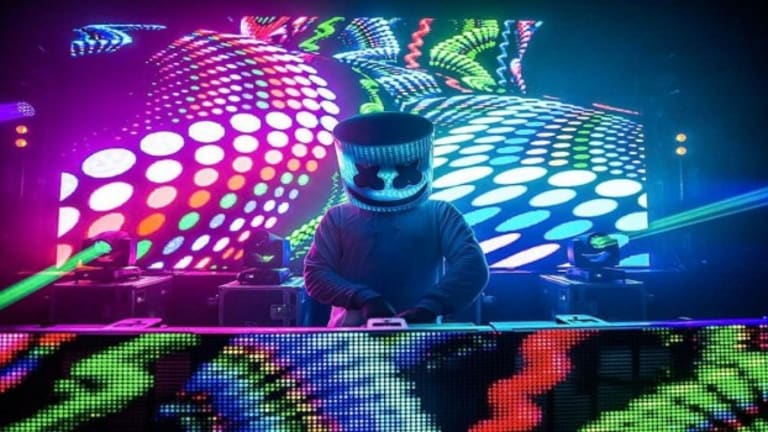 WELCOME THE WEEKEND WITH BRAND NEW MUSIC FROM MARSHMELLO [LISTEN]
Sweet as candy.
One of EDM's most controversial masked artists just dropped a new song last night!
"Moving On" continues to establish Marshmello's flavour for peppy, playful and up-beat music. In typical Marshmello fashion, the song is built around video game-esque sounds, with smooth cheerful vocals to add a little more glee to it. What's more, the sparkly synths and buzzing basslines are signature Mello! The song centers itself around building a warm, energetic and high-spirited atmosphere that's oozing good vibes.
Stream the track below:
With the track comes an equally playful and fun music video, which takes a look at Marshmello "moving on" (graduating) from high school. Great timing too, since seniors all over the world are graduating around this time of year. Also, instead of a generic video release announcement, Marshmello included a positive motivational message that's sure to strike a chord in fans' hearts. Clever stuff with that last sentence--in reference to his hit song "Alone"--saying 'I'm choosing not to be alone instead I'm moving on'. Could that be hinting at something bigger? Maybe the mask is coming off soon? That could be thinking too far into it, but who knows!
Have a look at the video below:
Once again, Marshmello uses the video to poke fun at the EDM world, as he did previously with "Ritual". This time around, he features fake cameos from Slushii, Skrillex and Ookay, while he trolls haters by including a shot of him pressing play on a "pre-recorded set" button. All in all, it's an entertaining and hilarious video that continues to develop Marshmello as a goofy, spirited and whimsical engima--one that the devoted Mellogang have come to love!
Marshmello has skyrocketed to fame during his short time in the EDM stratosphere. While many have questioned his music and persona, at the end of the day he connects with, and brings joy, to people. He has developed a loyal following of fans, and an equally intense group of haters. It's important to facilitate meaningful discussions and constructive criticism, but there's a difference between doing that and being outright hateful. Music is subjective and universal and we should always respect each other's opinions, even beyond the realm of music. With that, whether you'll be blasting the new Mello song or anything else you have lined up for your listening pleasure, have a wonderful weekend!