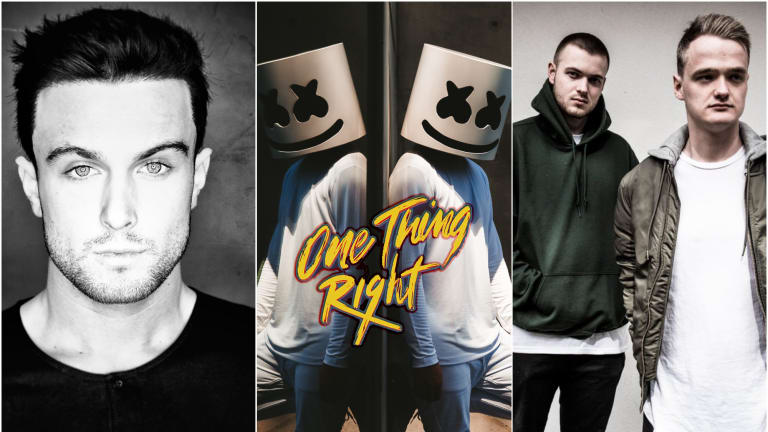 KDrew and Duke & Jones Get "One Thing Right" in Marshmello Remixes
The Remixes for Marshmello and Kane Brown's hit single "One Thing Right" have finally arrived.
Following the release of Lil Nas X's mega-hit "Old Town Road," country music saw a significant increase in crossover appeal. Always one to lead the way with evolving trends, American DJ and producer Marshmello (real name Chris Comstock) teamed up with rising Nashville star Kane Brown on their own country-inspired pop radio hit, "One Thing Right." Hitting the Billboard Hot 100, "One Thing Right" amassed nearly 80 million streams on Spotify alone since it's release on June 21st.
Less than two months later, Comstock and the team at his Joytime Collective imprint have decided to grace us with a round of fresh, forward-thinking remixes from some of hottest producers in the scene. From EDM.com regulars like KDrew and Duke & Jones to Dutch big room duo Firebeatz and Spanish bass house group Subshock & Evangelos, the "One Thing Right" remix pack is filled to the brim with diverse and excellent music.
The KDrew (real name Kevin Drew) remix delivers exactly what the summer season calls for: a roaring festival anthem fit to burst with his signature crisp, crashing drums and thunderous, stadium-size synths. It's an epic smasher of truly monumental proportions, KDrew's take on "One Thing Right" brings the radio pop hit straight to the festival main stage. You won't know what hit you!
Manchester duo Duke & Jones take a completely different approach to their remix of "One Thing Right." Groovy yet jagged, minimal yet cinematic, their remix flips the song entirely on its head. An upbeat pop-country hit is transformed into a resonant sonic dreamscape that pans back and forth between muted, atmospheric tones and intense, staggering, and emotionally charged breaks.
With three other incredible remixes still remaining, we fully expect this next wave of country-infused remixes to inject a fresh surge of energy into the rising trend of country crossover records.
Stream or download Marshmello's "One Thing Right" Remixes EP.
FOLLOW KDREW:
Website: KDrewMusic.com
Facebook: Facebook.com/KDrewMusic
Instagram: Instagram.com/KDrewMusic
Twitter: Twitter.com/KDrewMusic
YouTube: Youtube.com/KDrewMusic
SoundCloud: Soundcloud.com/KDrewMusic
FOLLOW DUKE & JONES:
Facebook: bit.ly/Duke-JonesFB
Instagram: bit.ly/Duke-JonesIG
Twitter: bit.ly/DukeJones-TW
SoundCloud: bit.ly/DukeJones-SC
FOLLOW MARSHMELLO:
Facebook: facebook.com/marshmellomusic
Twitter: twitter.com/marshmellomusic
Instagram: instagram.com/marshmellomusic
SoundCloud: soundcloud.com/marshmellomusic