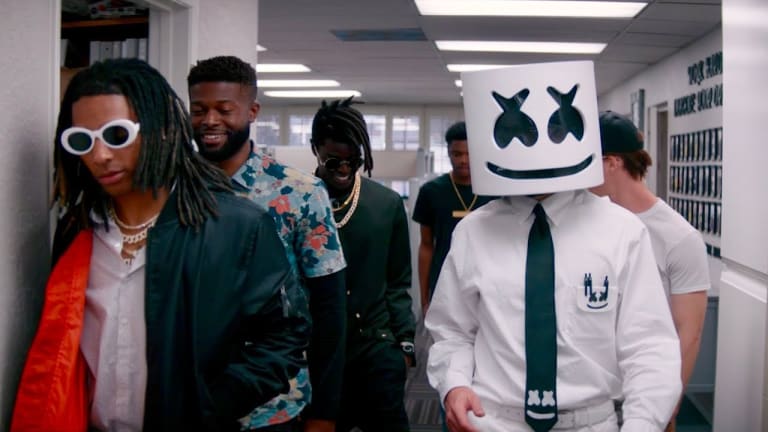 Marshmello's "Imagine" Gets An Official Video
The video also teases Joytime III.
Marshmello's positivity kick continues with the brand new music video for "Imagine." Released on 2018's Joytime II album, "Imagine" was the final track on the release.
The video follows 'Mello hard at work in his cubicle, among other office employees. Despite his best efforts, he doesn't get "Artist Of The Month." Working even harder and deep into the night, he slips into a dream of playing on festival stages and skateboarding with Skrillex, among many other flashbacks to previous Marshmello videos. Upon waking, he has the inspiration he needs, and gathers his work to present to the big boss. The big reveal at the end teases the next Marshmello album, Joytime III. 
Aligning with the vision of Mello's previous videos, the message is positivity. The caption on YouTube tells viewers, "This video is a reminder to work hard and imagine your dreams." Marshmello has certainly been hard at work, and with Joytime III on the way, it seems he won't be slowing down anytime soon. 
There isn't an official release date for the new album, but Mellogang will be delighted to know that it's on its way. 
Follow Marshmello:
Facebook: facebook.com/marshmellomusic
Twitter: twitter.com/marshmellomusic
Instagram: instagram.com/marshmellomusic
SoundCloud: soundcloud.com/marshmellomusic