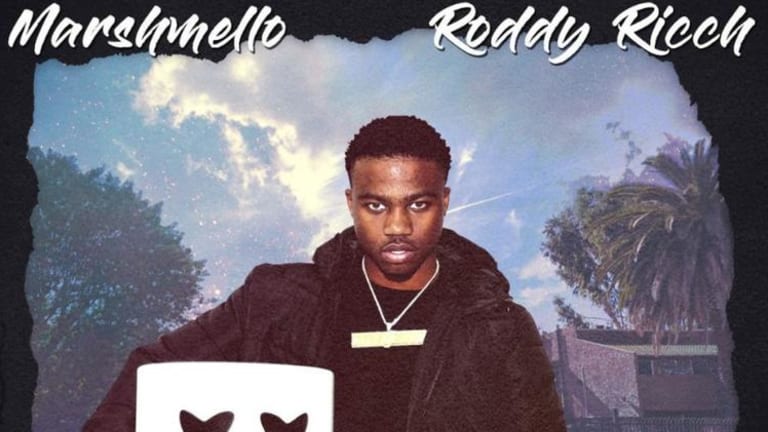 Marshmello Flexes Hip-Hop Skills With "Project Dreams" ft. Roddy Ricch
Marshmello took a dip in the hip-hop pool with his latest release.
EDM superstar Marshmello is known for killing it in both the EDM and the pop world. Today, he's making moves to take on the hip-hop game. 
The anonymous DJ/producer hinted at the release of his latest track back in November and now he's here to deliver on that promise. The single sees him collaborate with up-and-coming rapper Roddy Ricch and goes by the title "Project Dreams." Typically, the masked legend has always incorporated some EDM aspects into his tracks, but with this new single, he takes a traditional approach to the genre. 
The song features a melodic loop laced with Ricch's catchy verses.  Marshmello layers his 808 drums, clean snares, and complex hat patterns like a seasoned hip-hop producer. The vibe is undeniably smooth, so it looks like the masked man really can do it all. 
Marshmello has had a meteoric rise over the past few years. With mega hits "Alone," "Silence" and most recently "Happier," there's no sign this man is slowing down anytime soon. In the past two years, he has reportedly earned $44 million - and his manager, Moe Shalizi, expects him to rival the income of Calvin Harris in 2019.
According to XXL, Roddy Rich's music career gained momentum with the breakout success of "Die Young," a single he released in July of 2018. Prior to that, he had delivered a mixtape titled Feed Tha Streets in late 2017 followed by a four-track EP called Be 4 Tha Fame in early 2017. Most recently he's garnered a mass of new fans after being featured on Meek Mill's new album. 
FOLLOW MARSHMELLO:
Facebook: https://www.facebook.com/marshmellomusic
Twitter: https://twitter.com/marshmellomusic
Instagram: https://www.instagram.com/marshmellomusic
SoundCloud: https://soundcloud.com/marshmellomusic
FOLLOW RODDY RICCH:
Facebook: https://www.facebook.com/RoddyRicch/
Twitter: https://twitter.com/RoddyRicch
Instagram: https://www.instagram.com/roddyricch/
SoundCloud: https://soundcloud.com/roddyricch