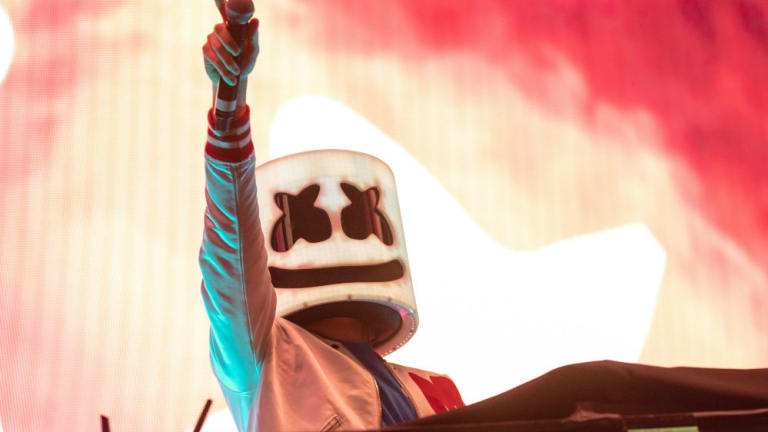 Marshmello Teases Cardi B Collab While Celebrating with the Toronto Raptors in Vegas
After their historic win over the Golden State Warriors, some players from the Toronto Raptors celebrated their first NBA Finals in Las Vegas with none other than Marshmello. The celebration took place at one of Vegas' newest nightclubs, KAOS, where Marshmello played a variety of music and made a social media post that many believe teased his long-awaited collaboration with Cardi B.
It's unclear if he made any announcements about the collaboration during his set, however, he posted a small video shout out to Cardi B of himself playing her track with DJ Khaled and 21 Savage, "Wish Wish," with the caption "ready for our smash." This has further fueled speculation of the potential collaboration.
It's also worth nothing that Cardi B played at KAOS the night after Marshmello's performance. Although we have not actually heard any music from Marshmello and Cardi B, it's been reported that the duo are getting set to release music together.
During the show, a congratulatory visual was shown in honor of the Raptors NBA Championship. Several players can be seen dancing and popping bottles of champagne on stage with the masked producer/DJ as well.
Marshmello is not the only EDM artist to be involved with the Raptors' first NBA Championship. Hometown fan Rezz was featured in ESPN's promotional material for the Raptors before Game 1 of the 2019 NBA Finals. 
FOLLOW MARSHMELLO:
Facebook: facebook.com/marshmellomusic
Twitter: twitter.com/marshmellomusic
Instagram: instagram.com/marshmellomusic
SoundCloud: soundcloud.com/marshmellomusic