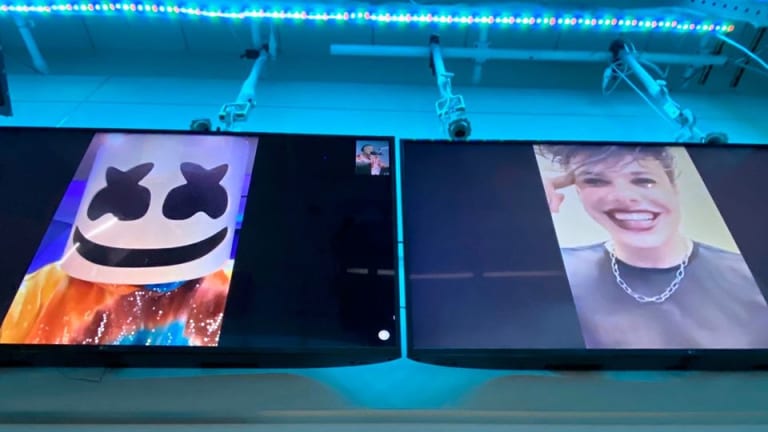 Marshmello Drops "Tongue Tied" ft. YUNGBLUD and blackbear
The massive collaboration follows Marshmello's acclaimed Joytime III album.
Marshmello has been riding high off of the July release of his acclaimed album, Joytime III. Since then, the man in the helmet hasn't put out any new material, which is unusual for him. That changed today, however, with the release of his new collaboration with YUNGBLUD and blackbear, "Tongue Tied." 
This new single is a notably pop-oriented release, not unlike some of his previous collaborations. It's got a summery vibe for being released in the middle of November, but the Marshmello (real name Chris Comstock) sound has always leaned in that direction. "Tongue Tied" is a fine addition to his catalogue in that regard, bringing his signature sound while integrating the vocals of two talented pop artists. 
blackbear's verses add a hip-hop element, and the chorus sections are sung in a catchy and memorable manner by up-and-comer YUNGBLUD. Overall, the track is perfectly poised to be a hit with Mello diehards as well as fans of his two collaborators. 
There's no word on if a bigger body of work like an EP or a possible Joytime IV album will be released in the near future. For now, "Tongue Tied" will stay on repeat for Marshmello fans. 
The new single is available now and can be found here.
FOLLOW MARSHMELLO:
Facebook: facebook.com/marshmellomusic
Twitter: twitter.com/marshmellomusic
Instagram: instagram.com/marshmellomusic
SoundCloud: soundcloud.com/marshmellomusic
FOLLOW BLACKBEAR: 
Facebook: facebook.com/blackbear
Twitter: twitter.com/iamblackbear
Instagram: instagram.com/bear
SoundCloud: soundcloud.com/user-32438116
FOLLOW YUNGBLUD:
Facebook: facebook.com/yungblud
Twitter: twitter.com/yungblud
Instagram: instagram.com/yungblud
SoundCloud: soundcloud.com/yungblud