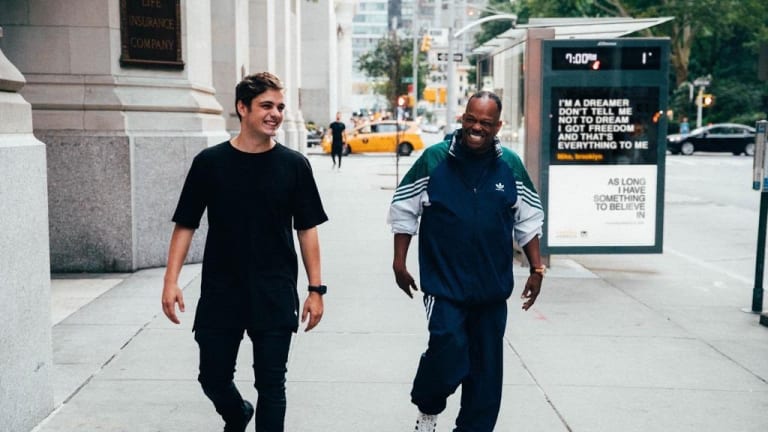 Martin Garrix Releases "Dreamer" ft. Mike Yung on STMPD RCRDS
...Or is it a song by Mike Yung featuring Martin Garrix?
Martin Garrix has had so much on his plate that you can't expect he'll pour his entire self into every project. The Dutch DJ/producer has released "Dreamer," which serves more as a vehicle for Mike Yung than a cornerstone STMPD RCRDS release.
Yung's soulful vocal takes center stage in the arrangement, his memorable lyrics inspiring hope with relatable sentiments. Garrix's influence can only be vaguely heard in the track. Even the track's symphonic elements and slap bass samples outweigh his sheepish synth melodies.
Mike Yung (real name Michael Young) busked in New York City Subway stations before his 2017 appearance on America's Got Talent launched his career. The 58-year-old is currently raising funds to release his debut album, I Will Never Give Up, via Kickstarter.
On the topic of his Martin Garrix collaboration, Young recently tweeted:
This guy @martingarrix could work with anyone. Why he chose to work with a 60 yr old like me was always confusing. But now we have a song coming out this Friday. Hopefully this shows labels I still got what it takes. Martin thank u for the opportunity and I love you man.
Martin Garix's "Dreamer" featuring Mike Yung came arrived today, November 1st, by way of STMPD RCRDS. Stream or download the single across platforms here.
FOLLOW MARTIN GARRIX:
Facebook: https://www.facebook.com/martin.garrix
Twitter: https://twitter.com/MartinGarrix
Instagram: https://www.instagram.com/martingarrix
SoundCloud: https://soundcloud.com/martingarrix